Image Gallery
Psychedelic Metaphysics by Dion Banks
Illustration // Friday, 18 Oct 2013
1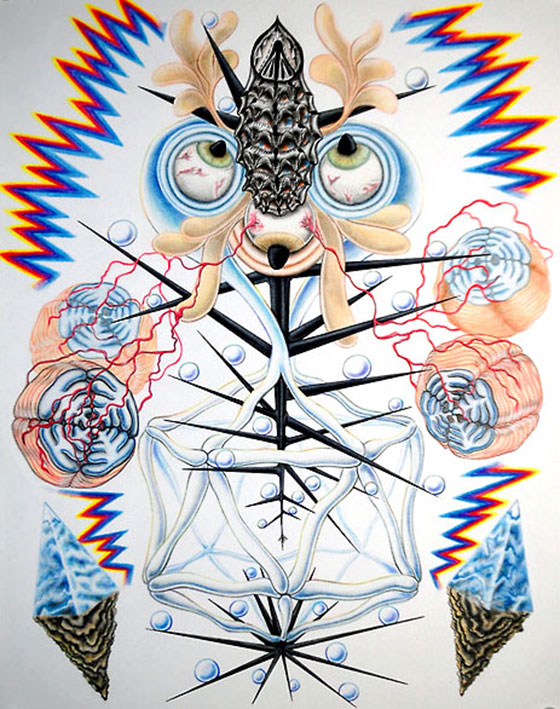 Dion Banks is making his presence known in the Los Angeles area, with most recently showing at Innocnts Gallery in Silverlake. His surreal and very tedious drawings experiment with symmetry, human elements, and provoking patterns.
"I was born in 1987 and partially raised in Diamond Bar, California. I was an only child so I was constantly using my imagination, building creations out of Lego's, K'nex, and duking it out with action figures. I initially got into drawing through my love for comics being influenced by Bill Waterson's Calvin and Hobbes. I remember bugging out on Gary Larson's Far Side, and Stephen Gammell's illustrations as well. I began creating my own comic strips, story lines, and characters, trying my best to emulate the authors I admired.
After high school, I worked full-time to keep myself afloat financially and was asked to be involved in a couple group shows in Chino, Pomona, and LA. I then lived in San Francisco for about a year, selling pieces and setting up window displays at the 5024 Gallery while assisting at Upper Playground.
After returning home, I was accepted to Pasadena Art Center and awarded a partial scholarship, only to find that it was way out of reach financially. I went back to working 9-5 and bought a bunch of literature and began to build on my aesthetic. My most recent opening on October 10th was at Innocnts in Silverlake, Los Angeles."