Image Gallery
Artist A Day Selection: Max Ginsburg
Illustration // Wednesday, 29 Feb 2012
1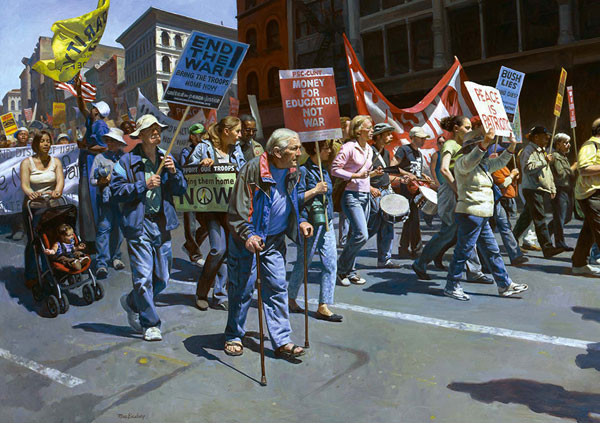 When Max Ginsburg entered the art world in the 1960?s, he was working in direct opposition to the period's minimalism and rejection of representational art. Ginsburg's fine art reflected and represented his immediate environment: cart vendors, subway riders, street basketball and generally the people of New York, depicting them with unflinching clarity and dignity. He approached this subject sympathetically if unromantically, with his primary motivation being visual truth rather than idealization.
Ginsburg quickly discovered he had a propensity for the genre. His work went on to grace the covers of over 800 titles–far a field in their variety—ranging from John Knowles," A Separate Peace", to Pamela Pacotti's, 'Winds of Desire". His romance illustrations appealed to readers' wishes for exploration or escape: his buxom women were determined and intoxicating, their men handsome and strapping, the settings vast and promising of adventure. When working with revered authors like Mildred Taylor, his empathy and skill combined to produce tender depictions of friendship or family ties in the face of gross social injustice and random tragedy.
Ginsburg's artistic skill placed him in high demand, thus he enjoyed a successful twenty-four year career in illustration, only retiring from the field in 2004 to concentrate again on his fine art. His list of achievements in the field is impressive: Gold Medals from the Society of Illustrators, the Romance Writers of America "Art Emis " Award, the highly acclaimed 'Christopher Award", the Art Directors Club 'Merit Award", The Society Of Newspaper Design's 'New York Times Cover Award" and a one man retrospective at the Franklin Mint. Clients included the New York Times, New York Magazine, Fortune Magazine, Avon, Penguin Putnam, Harlequin, Bantam, Dell, Crown, Pocket Books, Berkley, Leisure, Dial, Puffin and Warner Publications. In addition, Ginsburg is featured in Walt Reed's preeminent reference volume, 'The Illustrator in America". His work can be found in the permanent collections of the New Britain Museum in Connecticut and the Society of Illustrators.
Guest Written by:
Kai Hansen, Geoff Pitchford and Dave Pitman
Artist A Day Partners
Twitter: @artistaday
Facebook: artistadaydotcom
Events
Openings, closing, and ongoing
Gallery
Every image in one place
Current Issue
On sale now at newsstands or on screen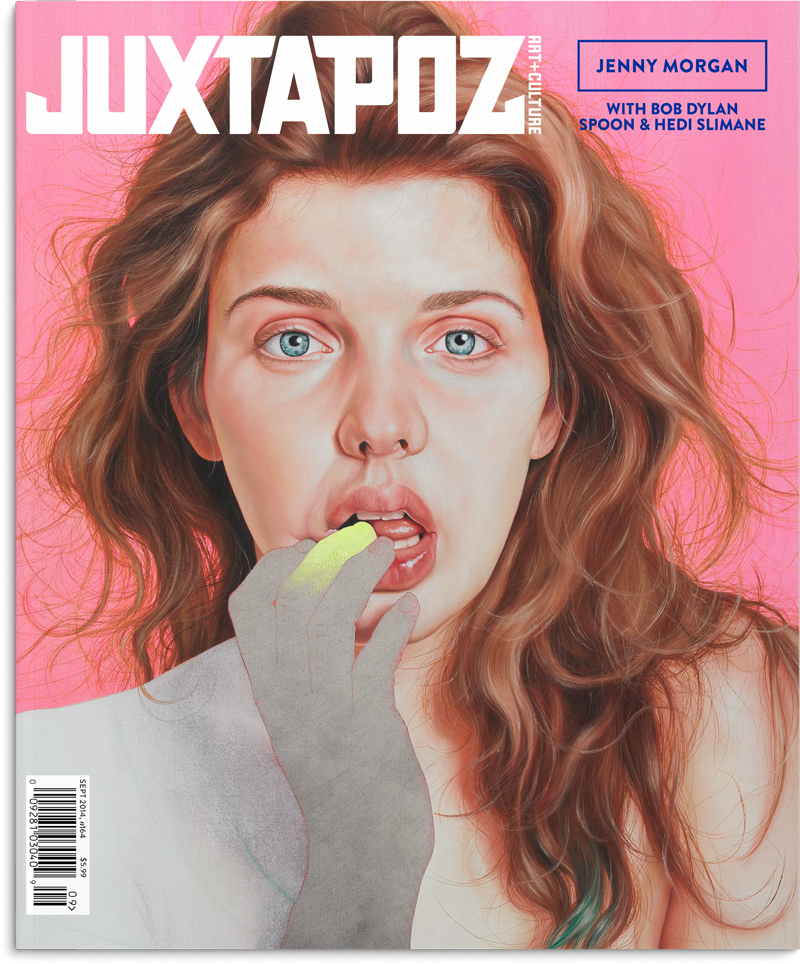 Sometimes you just walk right into a gallery and know you have something moving on your hands. That is what we felt like with Jenny Morgan. Her work is stunning, well-executed, alluring... and we have her on the cover of the September 2014 issue of Juxtapoz. We go to Jenny's Brooklyn studio to watch the development of her new body of work.