The History of American Graffiti Book
Graffiti // Thursday, 03 Feb 2011
1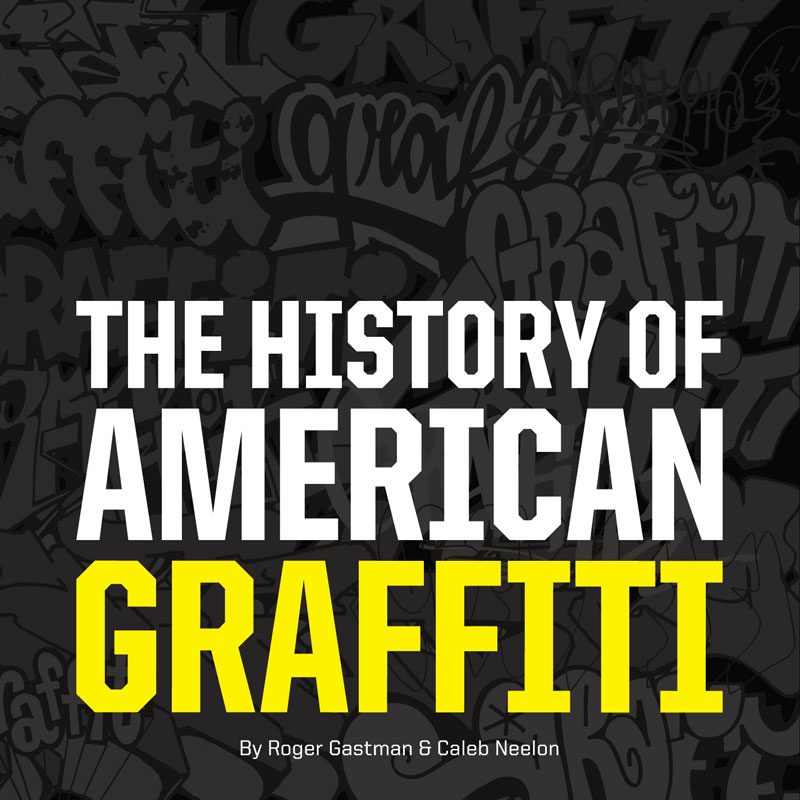 We know this has been a major project for two of Jux' longtime contributors Roger Gastman and Caleb Neelon, but at last, this Spring, their book,
The History of American Graffiti
will be released with HarperCollins. The book aims to be the definitive history of American Graffiti, one of the most influential art forms of the last 40 years.
Here is the full press release, with more information to follow.
THE HISTORY OF AMERICAN GRAFFITI (Harper Design; April 2011) is the definitive story behind the most explosive and influential art form of the last one hundred years. Unprecedented in scope, the book traces the evolution of the movement from its early freight train days to its big-city boom on the streets of New York City and Philadelphia to its modern-day influences.

Featuring interviews with more than five hundred key artists and exclusive behind-the-scenes stories gleaned from over four-years' worth of interviews, THE HISTORY OF AMERICAN GRAFFITI unveils the entire scope of American graffiti history, from forgotten street legends to the present-day stars: from TAKI 183 to IZ THE WIZ to SANE AND SMITH; from Barry "TWIST" McGee to REVOK; and historical figures, including for the first time, the story behind the WWII legend KILROY WAS HERE. Authors Roger Gastman and Caleb Neelon provide an insider's perspective on the most popular trends and styles that have dominated the scene for the last fifty years, revealing the story behind the culture that spawned today's street artists.

THE HISTORY OF AMERICAN GRAFFITI is packed with over one thousand photographs—the majority of which have never before been seen—from more than two hundred photographers, most of whom also created the artwork. The authors have spent the better part of the last four years interviewing key figures in the graffiti world throughout America—from the bedrock cities of New York City, Philadelphia, and Los Angeles to more than twenty metropolitan hotspots, including Chicago, Boston, Miami, New Orleans, San Diego, and Seattle. Approximately 90 percent of the art in this book has never been published, and was sourced directly from the artists who lived the scene, giving the book a raw street vibe as authentic as the history it documents.

The foreword is by legendary graffiti artist, TAKI 183. Considered one of the founding fathers of the graffiti arts movement, TAKI 183 has never before contributed writing to any book or media article on the subject. 2011 marks the fortieth anniversary of the 1971 New York Times article written on TAKI 183, "TAKI 183 Spawns Pen Pals," that ignited the movement in New York City and cast TAKI 183 as the world's first famous graffiti artist.

Despite many small niche titles catering to graffiti's practitioners, there has never been a comprehensive and accessible book that details the full history—from the 1800s to the present day—of American graffiti. THE HISTORY OF AMERICAN GRAFFITI is unlike anything ever published before on the subject. It is the category game-changer and the ultimate word on the medium as told from the artists who created it.

ABOUT THE AUTHORS:  
Roger Gastman started writing graffiti as a teenager in Bethesda, Maryland, and was able to parlay his love for it into a legitimate career, becoming a trusted mediator between the underground art scenes and mainstream culture. A consulting producer on Banksy's Oscar-nominated Exit Through the Gift Shop, Gastman is co-curating MoCA's Art In the Streets exhibition in April 2011, alongside Jeffrey Deitch and Aaron Rose. He founded and published two respected pop-culture magazines—While You Were Sleeping and Swindle (co-publisher)—as well as more than a dozen highly sought-after art books. He is the founder and creative director of R. Rock Enterprises, a multi-platform media agency that specializes in print, art, design, marketing, and brand development, and has nurtured the careers of internationally recognized artists. Gastman is producing two independent documentary films, and speaks at universities and major museums across the country. Gastman currently lives in Los Angeles, CA.

Caleb Neelon is a writer, educator, and prolific graffiti artist who has painted the streets of over twenty countries on five continents. His work has been exhibited in galleries and museums worldwide. Neelon is the co-author of Street World, Graffiti Brasil, and Caleb Neelon's Book of Awesome, and he has collaborated on nearly a dozen other books. In the past five years, Caleb's writing has frequently appeared in Print, Juxtapoz, and Swindle, where he was editor-at-large. Caleb speaks regularly at universities, international conferences, and festivals. He lives in Cambridge, MA.

PRE-ORDER LINK:
http://www.amazon.com/History-American-Graffiti-Roger-Gastman/dp/0061698784