Sesper creates video for Graffiti Gone Global's FRESH PRODUCE at Basel
Graffiti // Tuesday, 30 Nov 2010
1
sesper works @ grafitti gone global miami dec. 2010 from Sesper on Vimeo.


Brazilian collage artist and musician Sesper just created a video of his works he will have in Graffiti Gone Global's Art Basel exhibition/event, Fresh Produce. The roster for Produce is quite deep, with many Juxtapoz alumnists in the line-up, including Sepser, Herbert Baglione, REVOK, Alexone, Kofie, Escif, and Reyes.

This is the 4th year for Graffiti Gone Global at Art Basel, with this year's Fresh Produce show done in conjunction with Primary Flight, and is curated by Cristina Gonzalez.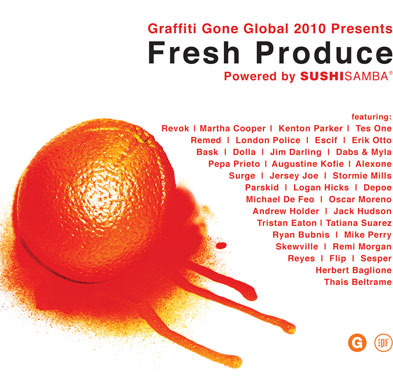 Check out the full roster:

The London Police, REVOK, Erik Otto, Skewville, Pepa Prieto, Augustine Kofie, Alëxone, Kenton Parker, Tes One, BASK, Dolla, Jim Darling, Dabs & Myla, Stormie Mills, Michael De Feo, Andrew Holder, Jack Hudson, Tristan Eaton, Tatiana Suarez, Surge, Jersey Joe, REMeD, Parskid, Logan Hicks, Escif, Depoe, Remi/Rough, Ryan Bubnis, Mike Perry, Reyes and from the Family Baglione: Flip, Sesper, Thais Beltrame and Herbert Baglione.

Graffiti Gone Global: Fresh Produce
December 1—5, 2010
Artists' Reception: December 3, 10, 7 – 10pm
Private Preview: November, 30, 5 – 8pm
70 NW 25th Street, Miami, FL 33127
Between NW 2nd Ave. & N. Miami Ave
in the Wynwood Arts District