REVOK Arrested at LAX for Failing to Pay Restitution (Update: REVOK Sentenced to 180 Days in Jail)
Graffiti // Monday, 25 Apr 2011
1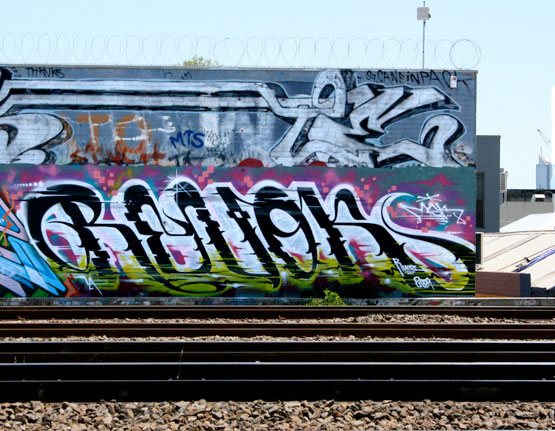 One of the leading graffiti artists in the world, REVOK, was arrested as he prepared to board a plane to Ireland at Los Angeles International Airport this past weekend.
The LA Times
is reporting that Revok was taken into custody for an "outstanding arrest warrant for failing to pay restitution, according to sheriff's Capt. Mike Parker." He is being held at Los Angeles County Jail in lieu of $320,000 bail.
The situation seems to be heightened only further with REVOK's major contribution to
MOCA
's "Art In the Streets" museum exhibition that opened last week in downtown Los Angeles. We heard that Space Invader had been detained for vandalism around the opening of "
AITS
" but REVOK's seems to be far more extreme in terms of bail.
Being that we have worked with REVOK in the past, including in our April 2011 issue, we hope that as we write this, bail has been met...
UPDATE
:
The LA Times reports that REVOK
was sentenced tp 180 days in jail after a "judge found that he had violated the terms of his probation in a previous vandalism conviction, court officials said." REVOK appeared appeared in a "Van Nuys courtroom Monday where he was found to have violated his probation on a misdemeanor vandalism charge by failing to pay adequate restitution to his victims, according to prosecutor."