Parisian graffiti artist Princess Hijab remains elusive while the press follows
Graffiti // Thursday, 11 Nov 2010
1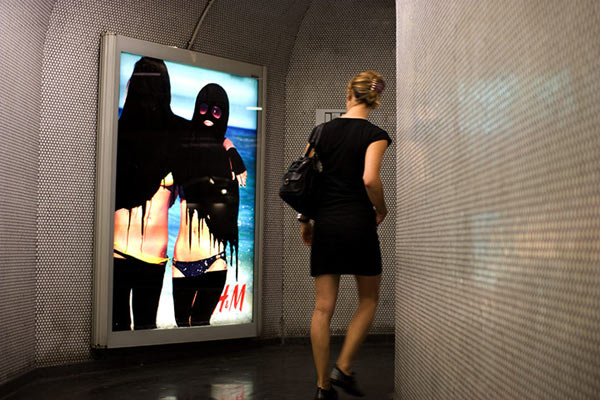 Guess what? The world loves an elusive street artist. There is just something about someone creating a public dialogue and commentary who does so with a mystique and hidden identity. It makes the work, and the artist, larger than life. Parisian graffiti artist,
Princess Hijab
, has been applying Muslim veils on half-naked fashion ads all around the Paris Metro, and we don't even know officially if Hijab is a man or a womanl. That is fun, right?
What Princess Hijab is doing is what "she" calls "hijabisation," the act of adding black Muslim veils on half-naked women, and men, on the metro's fashion advertisements.
As you may or may not know, in secular France, especially with the
recent Sarkozy governement's Burqa Ban
, this is a major act of politcal art, a potent formula of vandalism and discussion points.
The
London Guardian
has a fascinating interview and special on Princess Hijab, both on the artist and the political implications of what "hijabisation" means in secular France. They found that Princess Hijab sees herself as part of a new "graffiti of minorities" reclaiming the streets.
She is quoted as saying "If it was only about the burqa ban, my work wouldn't have a resonance for very long. But I think the burqa ban has given a global visibility to the issue of integration in France," she says. "We definitely can't keep closing off and putting groups in boxes, always reducing them to the same old questions about religion or urban violence. Education levels are better and we can't have the old Manichean discourse any more. Liberty, equality, fraternity, that's a republican principle, but in reality the issue of minorities in French society hasn't really evolved in half a century. The outsiders in France are still the poor, the Arabs, black and of course, the Roma."
A great read.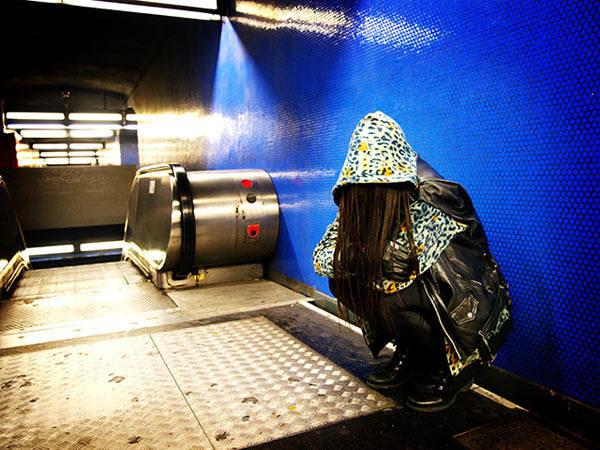 A posing Princess Hijab.