Image Gallery
ONO'U TAHITI GRAFFITI FESTIVAL - PART 6
Graffiti // Friday, 16 May 2014
1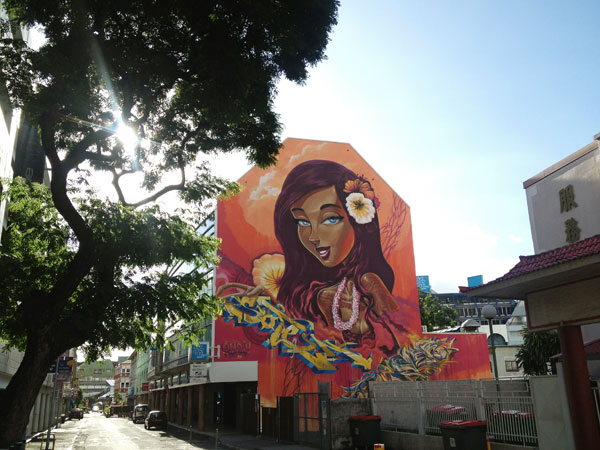 With the competition over and all large murals completed, a group of artists headed on a day field trip to Moorea Island to eat, swim with sharks and stingrays, and soak in the tropical luxuries. As most worked on their murals for just about a week, the rest and relaxation was essential. Reflecting on our week spent in Tahiti we can genuinely say that the group of artists chosen to participate were some of the most humble, egoless and talented individuals we've had the pleasure to watch work. Sofles, Soten, Dabs, Myle, Kems, Askew, Inti, Suiko Mad C, Besok, Alex, Brok, SeyB, Moon Hopare and all the competitors contributed incredible work to the city of Papeete and their efforts should be applauded. Hopefully the work left behind will influence a new generation of Tahitians looking for a creative outlet with ether a spraycan, roller or brush. We want to especially thank Sarah and Jean for organizing such an incredible event, and Sajme for being an excellent host! We look forward to next year!A special thanks to Sarah adnd Jean for organizing such an incredible event!
See part 1, part 2, part 3, part 4 and part 5
All photos courtesy of Austin McManus and Selina Miles
More information on the festival can be found at their website, Facebook and Youtube.
The festival primarily aims to become a major international rendez-vous for urban contemporary art located in the heart of the South Pacific Ocean.
For its first edition, ONO'U will gather over forty international graffiti writers coming from around world (France, England, Australia, Chile, Denmark, USA, Japan, Netherlands, New Zealand…) alongside local graffiti writers.
Among this group of artists, some of today's living legends of the graffiti worldwide scene will be especially traveling to the mythical island of Tahiti to create amazing wall murals and unique frescoes.
For this week-long celebration of graffiti art, colors and creativity, over 1500 sqm of walls will be installed and painted by day and by night on the iconic site of Place Toata, facing the harbor of Papeete and magical island of Moorea."