Earsnot Speaks to 12oz
Graffiti // Monday, 28 Nov 2011
1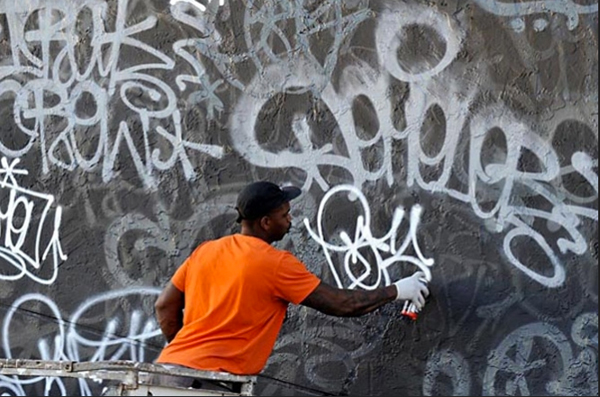 New York-based graffiti writer and outspoken character, Earsnot catches up with 12ozprophet while in Miami tagging up some walls.
Earsnot is a writer who's appetite for vandalism is only matched by his aptitude for the city around him. As President of the infamous IRAK crew, Earsnot (born Kunle Martins) lead more than 20 of NYC's most prolific writers through an all city graffiti onslaught beginning in the late 1990's. Stealing what they needed to get by and leaving their mark wherever they went; Earsnot and IRAK would serve as the disciples of downtown. The city was their playground: from building rooftops, to subway tunnels, to nearly every street sign / trash can / or doorway in between; there was no square foot of the entire city that wasn't a potential target for Kunle and his crew. Earsnot is now recognized as one of the most prominent writers in NYC graffiti history, and with 10+ year old tags still blanketing each of the 5 Boroughs; it's easy to see why. In recent years, Kunle has taken his talents from the street to more marketable venues: including collaborations with companies like Nike and Alife, as well as with other Artists (most recently murals with Jesse Geller in Miami's Wynwood Arts District for Art Basel 2011); not to mention a cameo in Season 2 HBO's How To Make It In America series. 12ozProphet sat down with Earsnot to discuss his first tags, the start of IRAK, and the future of Graffiti.
12ozProphet: How long have you written Earsnot?
Earsnot: Since '98 I guess. So around 13 years.
12ozProphet: What's the first tag you ever caught?
.
Earsnot: I think the first tag I wrote was.. "Three"? Wait no, the first tag I wrote was "FBV", which was a crew. "Fame Bound Vandals"... that was like the crew that me and my boy made up; just so we could have our own thing to do. I didn't know what to write; I couldn't make a decision, which isn't uncommon. I'd write mad different things, like "THREE"... "NERS" ... "KERM"... "GUNK". Right before Earsnot I wrote GUNK, thats what my mother used to call me sometimes when she was feeling like; verbally abusive. It used to make me laugh. Around that time I had runaway, and I was downtown; I had other things going on, priorities. I was trying to figure out how I was going to survive and shit. I didn't want to tag anything by the time I was writing Earsnot, I didn't want to write graffiti; I was over it. Then it turned out that people were like "Ohhh I saw EARSNOT on the bridge! Thats you?" and whatever. That was the ice breaker.
Read the rest of the interview at 12OZPROPHET.COM