Image Gallery
Francesca Woodman @ SFMoMA
Erotica // Wednesday, 09 Nov 2011
1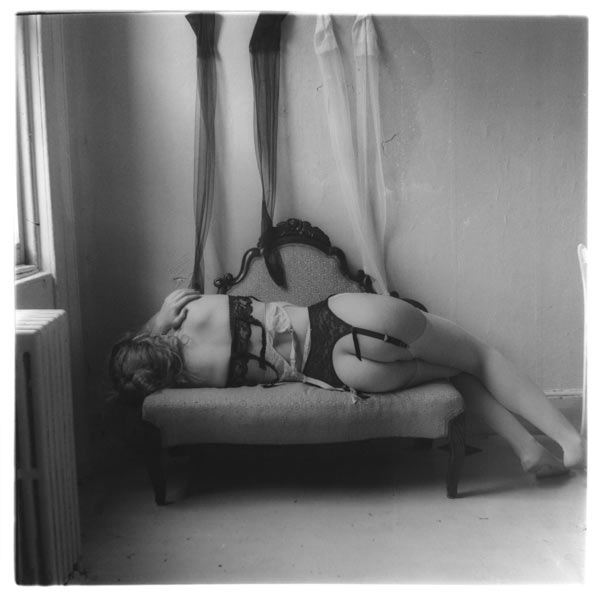 No sparkling sunrises in sight, the first Francesca Woodman retrospective had to unfold in the Fall when the haunting is subtle but pervasive. Slowly crumbling walls like falling  leaves are not swept away, but  form the soil from which many of her subjects take root Swathed in sepia, the black and white prints – save the large scale blueprints at the end of the exhibit - are surprisingly small, inviting  inspection and introspection.  Inescapable is the knowledge that this prolific 22 year old artist jumped from a New York loft to her death in 1991.
As you examine the prints, which are grouped according to life stages, starting with Providence where she studied at the Rhode Island School of Design and seemed to possess a life-knowledge beyond her years.  Would growing up with two working artist parents instill that in a child?  From those decayed interiors we follow her to eroded buildings in Rome, and finally to the giant blueprints created in New York.
Francesca herself was the subject of most of her work, and though the countenance is usually straightforward  and self possessed, there are nuanced differences in the face, the texture of the hair, the body.  And it turns out you're punked to discover that some of the females are actually models – who look eerily like her.
Goodman's use of long exposure blurs the experience even more.  The female body has no qualms, does not dominate.  Outstretched limbs are sheaved in bark, maybe all that's seen is the limbs.
The exhibit shows at the San Francisco MOMA until February 20, 2012 The accompanying book  Francesca Woodman is available at the bookstore.  Go see this; you will want to return.  And even if you don't go back,  Francesca Woodman will haunt you in an important and lovely way. —Gwynned Vitello

For captions, visit the SFMoMA site.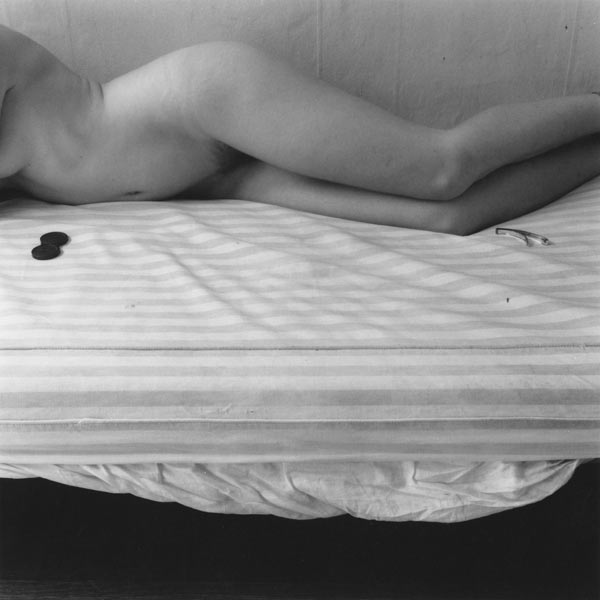 (Francesca Woodman, Untitled, New York, 1979–80; gelatin silver print; 3 7/8 x 3 7/8 in. (9.8 x 9.8 cm); courtesy George and Betty Woodman; © George and Betty Woodman)

Top photo:( Francesca Woodman, Untitled, New York, 1979–80; gelatin silver print; 6 1/16 x 6 1/16 in. (15.4 x 15.4 cm); courtesy George and Betty Woodman; © George and Betty Woodman)
Francesca Woodman
Through February 20, 2012
SFMOMA
San Francisco, California)