Your Guidebook to The Dirtyland: Exclusive Interview with Brian Viveros
Juxtapoz // Tuesday, 28 Sep 2010
1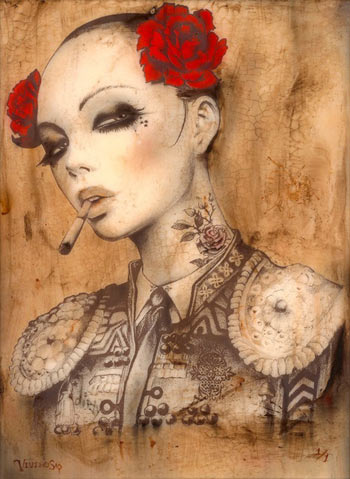 Brian Viveros will bring you to The Dirtyland this weekend. Sound scary? Try beautiful. Here's your guidebook to The Dirtyland in an exclusive interview with Viveros in anticipation of his solo opening this Saturday.
Your new solo show is titled The Dirtyland. Tell us about the theme for this exhibit and what you have in store for viewers.
The Dirtyland theme is revolved around my own inner world of strong kick ass women of power, my own smoking army. It is a show that I have envisioned for the past 3 years and has now come to fruition.
The theme takes you through different realms and time periods in my life, elements from my childhood, as well as elements from the present. There will be an amazing installation, a new short film loop, new paintings, drawings, sculptures; I am giving it my all. This exhibition will also feature my two largest paintings to date ?SAMUR-RIZING? and ?BLEED FOR ME?. I?m very exited to share these with the public.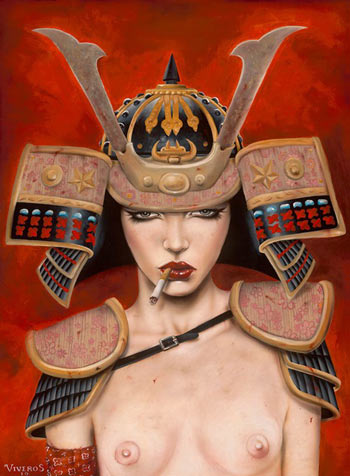 Your work is highly detailed. Did you go to art school? What is your background?
I?ve never been to art school and have had no formal training. I started drawing at the early age of four and have never stopped. I grew up in Corona, California and later moved to Riverside. As a child I was heavily influenced by comic books and film. At the age of twelve I was making storyboards and plotting cheezy horror films with the neighborhood homies and this funky old camera I took from grandma. Later I moved onto doing underground comics and some commercial illustration work.
Quick fast-forward to the year 1997 when I had my first group exhibition in Switzerland. It was with many artists that I looked up to, including H.R.Giger and Eric Stanton to name a few. It was a turning point for me and it was then that I realized I wanted to pursue my art as a career.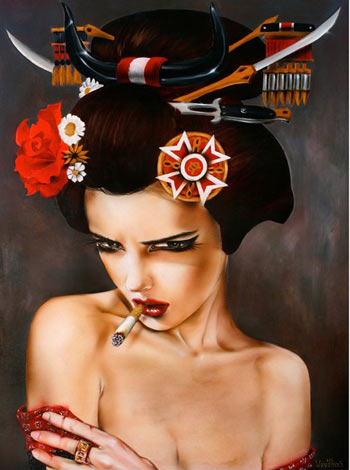 Your paintings almost exclusively feature females in a range of dangerous, painful, or dark situations, from apparent war zones to subjects dressed in military armor. Why are you drawn to these scenes and subject matter?
I grew up with a lot of the elements I use in my paintings, so I use them to decorate my army. I feel like women go through a lot and my paintings of these smoking girls are just that. They are women who have been through a war zone or just won a bullfight or a boxing match. So yeah, these are not your happy go shopping women but more dangerous, more painful because thats what?s real to me and that?s what I?m pushing for.
I'm pushing for the feeling and moment of victory and showing you that these women are not victims, on the contrary they are heroes. The themes and situations they are in are not battles lost, but battles won.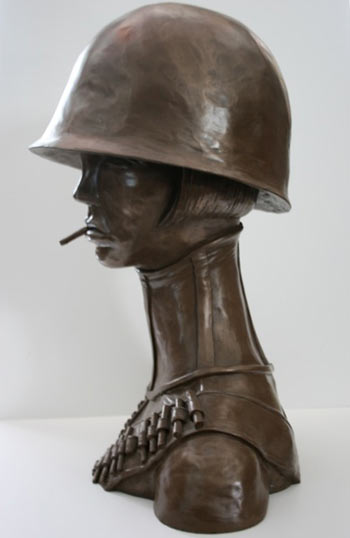 Some viewers might find your imagery troubling. What is your reaction to such responses?
If they know me and what I?m about then the thought of troubling should not really enter their minds. So I never really react, people are entitled to their own opinion and I know who I am. My work is about empowerment.
Do you ever see yourself painting males? What consistently draws you to the female figure?
No, I don?t see myself painting males. It?s just not me. The female figure tells a story. The neck down to the shoulders is the most powerful to me. I love the curves, and the smoothness of painting fleshtones. The eyes are dark and mysterious. I never get sick of painting them. I?d like to improve and learn more so I can keep pushing things to another level.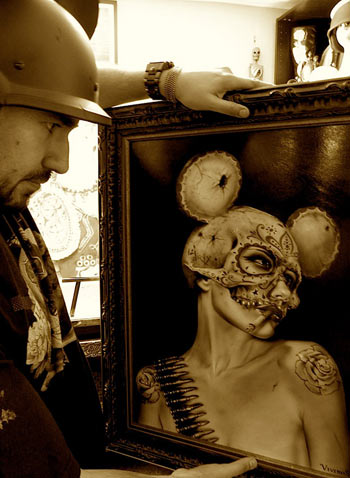 What do you hope viewers take away after experiencing your artwork? Do you have specific messages or is it more open-ended?
I leave it up to the viewer, though the message in my mind reads very bold and loud and that is to be strong and just keep going. We all take some hits in life. The blood, scratches and scars in my paintings tell a story.
Maybe it?s your story, but none the less I leave that up to you. The emails I get from fans are always reassuring to me that I?m doing the right thing and my art affects people in surreal ways that I can?t describe.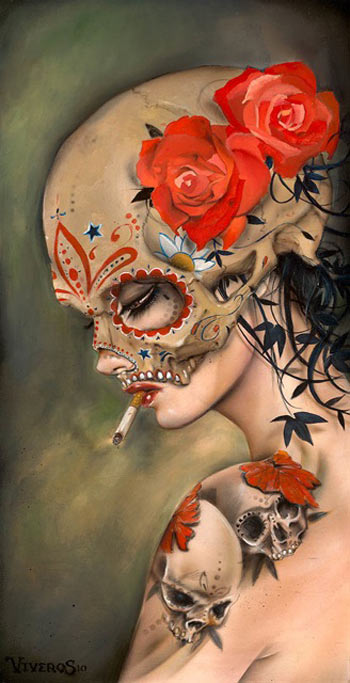 Make sure to arrive early, as Thinkspace will have 3 new print releases on opening night, as well as 200 autographed posters by Brian for the 1st 200 folks through the door!
Read our Back Talk interview with Viveros over here.
Brian M. Viveros: The Dirtyland
On view: October 2nd – October 23rd
Opening Reception: Sat, October 2nd 7-11pm with the artist in attendance
Thinkspace
6009 Washington Blvd.
Culver City, CA 90232
Phone: 310.558.3375