Yosi Sargant Fired: Glenn Beck Strikes Again
Juxtapoz // Thursday, 10 Sep 2009
1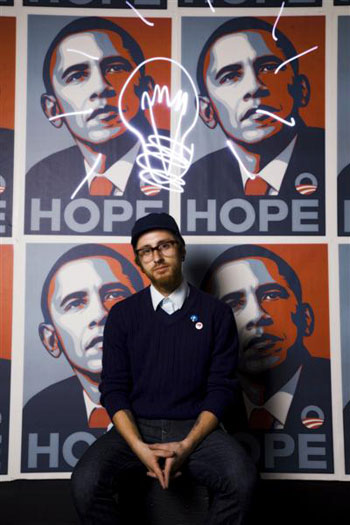 Yosi Sargant, the man who connected Shephard Fairy with Obama and was behind the Hope posters, was just fired after a smear campaign by Glenn Beck.
The Huffington Post reports:
"Yosi Sergant, who recently popped up on Beck's radar for his involvement in a conference call on national service, has been asked to resign as communications director by the National Endowment for the Arts, sources familiar with the move tell the Huffington Post.

"At issue was an August conference call in which the NEA encouraged select artists to participate in an administration project dubbed "United We Serve" and led by the first lady.

"Beck attacked Sergant and the NEA on his Fox News talk show, accusing the agency of propaganda efforts similar to those used by Nazi Germany. And now Sergant has been tossed overboard, making him Beck's second victim in his campaign to rid the administration of perceived radicals, socialists, communists, fascists, anarchists and all other manner of nefarious influences.

"Perhaps not coincidentally, both Sergant and Van Jones - Beck's first takedown - have roots in on-the-ground organizing and were tightly connected with the grassroots progressive community.

"The NEA wouldn't comment on Sergant's situation specifically, saying that it was a confidential personnel matter."

Read the entire article from The Huffington Post here.