Worlds on Fire: Grammy-Nominated Artist Exhibition
Juxtapoz // Friday, 23 Jan 2009
1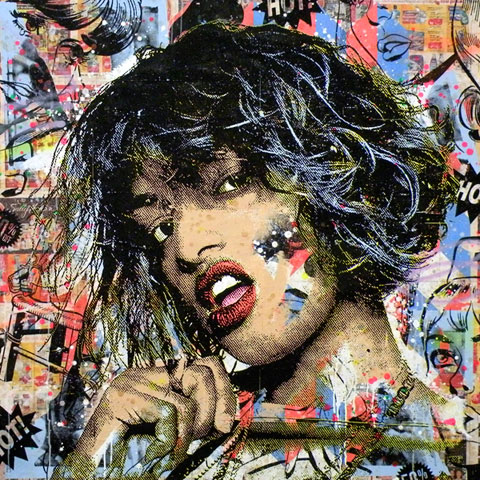 Will.i.am of The Black Eyed Peas presents Worlds on Fire: Grammy-Nominated Artist Exhibition in association with The Shooting Gallery & GEN – ARTS. Translation: our friend Justin Giarla of White Walls and The Shooting Gallery in San Francisco and Kris Lewis were asked to curate an awesome art show celebrating this year's Grammy's. Congrats, bros. And good idea, Grammy people.

Titled Worlds on Fire, this unique show will merge visual and musical artists by showcasing artist portraits of Grammy-nominated artists by some of the top artists working today. We love this portrait by Greg Gossell of M.I.A. as well as the one below by Paul Chatem of Rick Rubin, but that's just the tip of the massive Grammy-nominated iceberg, as the line-up also includes such greats as Shepard Fairey, Ron English, Lori Earley, Gary Baseman, Henry Lewis, and many more.

Opening at Pacific Electric Lofts in Los Angeles on Monday, February 2nd, 2009, with a reception from 8pm – Midnight and sponsored by Gen-Arts, Juxtapoz Magazine, and the Pea Pod Foundation, Worlds On Fire will run daily from February 2nd – 8th from 11am-6pm. Do what you gotta do to be there because this is one rare and unique opportunity.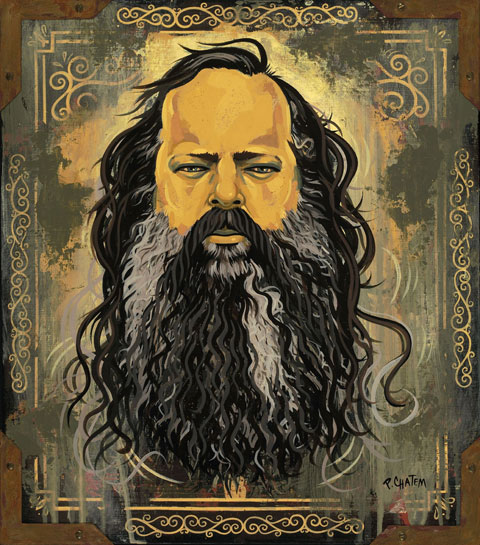 List of participating artists and their respective musicians that they are doing portraits of:
SAS CHRISTIAN – Riverview, FL (Rihanna)
LORI EARLEY – Red Bank, NJ (Madonna)
COLIN CHRISTIAN – Riverview, FL (M.I.A)
JEREMY LIPKING – Woodland Hills, CA (Snoop Dogg)
Paul Chatem – Los Angeles, CA (Paul McCartney)
IAN JOHNSON – San Francisco, CA (Al Green)
DAVID STOUPAKIS – New York, NY (Will.i.am )
PAUL CHATEM – Los Angeles, CA (Rick Rubin)
RON ENGLISH – Jersey City, NJ (Metallica)
GREG GOSSEL – Minneapolis, MN (Jay-Z)
HENRY LEWIS – San Francisco, CA (Nas)
SHAWN BARBER – San Francisco, CA (AC/DC)
TRAVIS LOUIE – Red Hook, NY (Nine Inch Nails)
MATTHEW BONE – Los Angeles, CA (Beyonce)
JOSHUA PETKER – Los Angeles, CA (Radiohead)
VAN ARNO – Los Angeles, CA (BB King)
HEIDI TAILLEFER – Montreal, CAN (Coldplay)
KRIS LEWIS - Los Angeles, CA (Beck)
MIKE MAXWELL – San Deigo, CA (Bruce Springsteen)
GARY BASEMAN & NABIL ELDERKIN - Los Angeles, CA (Kanye West)
CHRIS PUGLIESE – Hoboken, NJ (The Eagles)
HELEN GARBER – Los Angeles, CA (Will.i.am )
SAUL ARMAS – Los Angeles, CA (Lil' Wayne)
TRAE KING – Los Angeles, CA (Duffy)
NATALIA FABIA – Los Angeles, CA (Pink)
A portion of the proceeds of the auction will be donated to the Pea Pod Foundation. Prices will range from $5k-100k for these original pieces. Fifty limited edition giclee prints will be available for sale for the duration of the exhibition (prices will range from $250-400) of which all proceeds will be donated to Pea Pod Foundation.
The Gallery Exhibition will run daily from 1pm-7pm and is open to the public.
About the Pea Pod Foundation:
Founded by will.i.am of The Black Eyed Peas and Polo Molina of Grassroots Productions, The Peapod benefit concerts date back to the earliest incarnation of The Black Eyed Peas and began as charity toy drives for Los Angeles based children and local orphanages.

In 2005, The Peapod Foundation was proud to become a donor-advised fund of the Entertainment Industry Foundation (EIF), the philanthropic leader of the entertainment industry. The Peapod Foundation is run in association with Thirty-Three Productions and is based in Los Angeles, CA.