World's First Graffiti-Funded Movie, DOTS: Interview with Filmmaker, The Baron
Juxtapoz // Thursday, 09 Sep 2010
1
His street art documentary, DOTS, takes members of the notorious Burning Candy crew to various parts of the world to "visit the places and cultures that most inspire their artistic style, in order to discover how they can take their own work further". To fund the project, The Baron has come up with an especially nifty way to earn some cash – through the sales of a limited edition of box set prints. The set comes with nine prints, each by one of the BC artists.
In the following interview, The Baron discusses his relationship with BC, how he came up with the idea for DOTS and what he hopes to accomplish once its ready for public viewing. –Chris Osburn
Chris Osburn: Can you share a bit about the concept of the film and how you came up with the idea?
The Baron: It's important to remember that painting on public surfaces has been of well-documented importance to humans for at least the past 35,000 years. It's not about to cease being important to us and it didn't just start with the use of the spray can on the New York subway system.
I'm not dissing graffiti as I personally love and respect that NY scene. However, the frustrating thing about the current state of the art form is that it's developed some fairly strict moral and aesthetic codes/rules which are paradoxical to the original intent as DIY expression of freedom, style, innovation and self.
So the idea of this film is that each artist is going to travel the world to some far flung places that have always inspired them, but they haven't had the chance to experience firsthand yet. There they aim not only to meet and connect with the locals but also to collaborate with them and create some new hybrid style murals in unlikely places. This art has the power to transcend cultural barriers and stereotypes and create some amazing connections between seemingly disparate people.
Who are the members of Burning Candy? How long has the crew been around and how did you get involved with them?
They are Cyclops, Cept, Dscreet, Goldpeg, Mighty Mo, LLB, Rowdy, Sweet Toof and Tek 33.
Ah yes the "meeting", I remember it well: back in '87 I was the in-house "Zombiepopper" down at London Dungeon's Hiphop Horror Sundays, it wasn't much of a job but I was enjoying getting paid to practice what was at the time the freshest craze of breaking that was storming the nation. The "bench" was nearby and I used to hangout there practicing my moves and scoping for burners on the trains before work.
All the old school dudes used to pick on me for having skinny laces and lacking any real power moves in our regular brekky break battles, but Tek broke the mould and was a kind, softly spoken soul. He offered me chocolate bars for energy and taught me how to do the maddest windmills out. ??One day he bought me a spare stack hat and showed me how to rock a head spin with style, like most guys were just trying to stay vertical and not fall on their backs, but I got so good I could simultaneously spin, kick my legs furiously in scissor style and grab my balls in between revolutions. I called it the "Beater 90" cuz Beat Street was my favourite film, and back then 1990 was the future. It was my signature move and a lot of people wanted to meet the original "Beater" cuz being original was the most important thing in hip hop.
So gradually I met the rest of the gang, and at some point we discovered there were other elements in hip hop and one of them was drawing on stuff in public. As years went by we found out that hip hop has nothing to do with the origins of graffiti. So we all started listening to metal.
What sets Burning Candy apart from other artist collectives and what makes them worthy of a feature length film?
They're a strange bunch of characters, but it's a good strange driven by real creative intent and integrity and a sublime blend of beauty mixed with playful stupidity. They've all been around a bit and have their own peculiar nuances and philosophies, fiercely individual and on their own respective paths, yet willing to get together combine forces and rock out pretty hard as a collective.
I think a lot of crews have really obvious cohesive links but it's harder to pinpoint Burning Candy's particular glue. It's a lot about the attitude to explore, have fun and experiment without being limited by rules or parameters, to treat the whole world as a canvas. It blurs the boundaries between public and private art and vandalism and sanctioned art.?? Burning Candy are aware of graffiti's heritage and the rules but go beyond them on the creative tip and just see spray paint as a component of the bigger artistic vision. They'll just as willingly rock a sculpture next to a burner or a refined oil painting next to a throw-up. One of the most important things to them is to go big and get up in the most inaccessible spots, but that doesn't stop them from showing in galleries too; it's all art and energy at the end of the day.
These artists put a lot of thought into their work and they've got the experience to say what they feel on camera. The film will be an eye opening account for both the public and other artists to see what drives these people.
The film is designed to put them in some challenging situations which will test them on many levels both physically and ideologically. Maybe some of them will fail under extreme duress, but lets face it - everyone loves to watch a great slow-motion car crash. How else can you explain the popularity of Big Brother?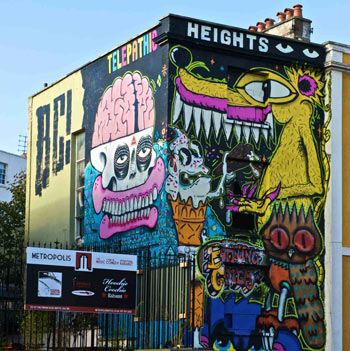 You're hoping to fund the film through sales of a limited edition box set of nine prints, one from each of the Burning Candy artists. How many sets are there and what are you selling them for? How can people get ahold of a set?
There are 150 sets and perhaps more importantly than the artwork you will be buying into the film itself; you get an actual loan in the film and a co-producer's credit on the piece. They are £500 each - not cheap but then it's not massively expensive either considering that you're getting part of the film. If this thing takes off like we're planning then you could be collecting producer's royalties for years to come.
You can check out the art, the film in detail and buy the sets online at www.dotsthefilm.com or contact info@dotsthefilm.com
Aside from the cool prints and the feel good factor of supporting an interesting project, are there any other reasons folks should consider snatching up a box set?
I thought that was enough reasons already?
How would you respond to people that say you're just trying to ride Banksy's coattails after the success of "Exit Through the Giftshop"?
People forget that graffiti films have been getting made for the past 30 or 40 years. For me, Style Wars and Stations of the Elevated were early formative influences. I studied them religiously, probably watching them far too many times. I've been filming bits of this one for the past 5 years and wasn't even aware that Banksy's film was being made back then.
Our approaches to the subject matter are very different. This is a slamming indictment on the proliferation of trend hopping fake artists and the idiots that gobble it up. I hope that this film is on a more positive and experimental tip.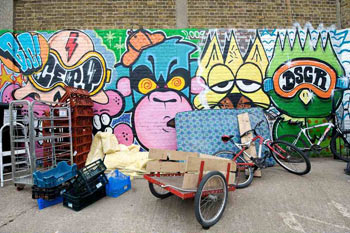 What's your background as an artist and filmmaker? Are you originally from London? How's the London street art scene compare to other cities?
I'm actually from the Mediterranean, but have been here for over 20 years now and call London home. I made a load of music videos, ads, music documentaries and animations before this and have rap sprayed a bunch of public transport slave tins in my checkered past; so I think its fair to say I possess the delicate balance of skills and understanding required to turn this mutha out.
The energy of graffiti/street art has a tendency to roll throughout the world like a big wave. I think the set has just passed through here and is on its way further afield. Unfortunately London seems to get a lot of the good stuff before the others, milk the fuck out of it then forget about it as soon as possible as if it was old hat and unfashionable.
Places that are maintaining and developing scenes are more interesting to look at. I think it's still really strong in mainland Europe, New York, Australia, Brazil, Mexico, Greece and loads of other places we aim to look at in the film.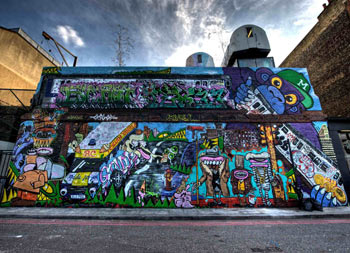 When do you anticipate DOTS being available for the public to view? How do you plan on getting the word out when it's released?
The film is made up of modular segments so I plan on having some preview screenings as parts are completed. For example, we already shot and edited part of the film in India with Cyclops. We have a few previews coming up in the US and Australia which we'll let peeps know the details of on the Dots website. So keep checking that out for updates.
On completion this magnum opus should be in the cinema, on the tele, internet and DVD. There's no point in going to all this effort unless people get to see it everywhere. In the meantime, we need more funds to keep going and gathering great footage. So please buy some art and get involved.
More on DOTS at www.dotsthefilm.com
Interview by Chris Osburn.

Photos by RomanyWG.