Word to Mother on 'Blind by Stardom:' Exclusive Interview x Preview
Juxtapoz // Thursday, 30 Sep 2010
1
Chris Osburn: Blind by Stardom will be your fourth solo show at StolenSpace in East London. How will it differ from previous exhibitions of your work?
Word to Mother: I hope the work is a progression in style, content and technique. In my past three shows, I have wanted to go bigger and bigger each time, in terms of amount of work and installations. With this show, I wanted to get back to basics and really concentrate on producing a succinct body of work with a definite theme.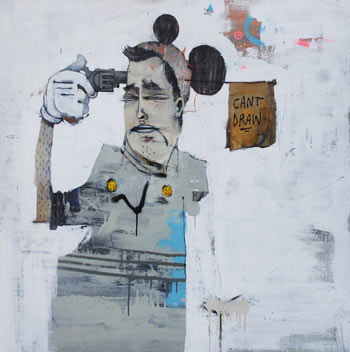 The works in your new show will feature paintings in mixed media on wood, canvas, found objects and installation pieces. How do you source the found objects? Do you purposely go out looking for specific things or just try to keep an eye out while going about your daily routine? When you find an object to use in your art, do you normally have an idea in mind for it from the start?
When I was living by the sea I would walk along the beach and find good shit all the time. Now I live in the city, the things I find are different and a lot harder to come by. You do just have to keep your eye out … I've got a couple of rag and bone men that look out for stuff for me too. Big up Mic.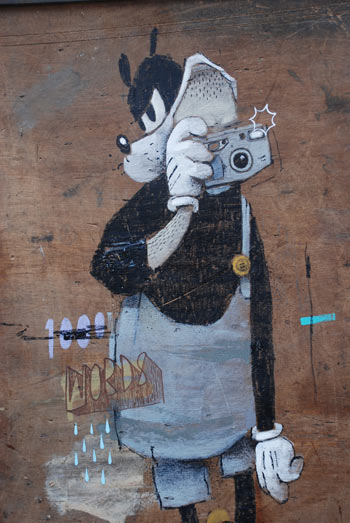 Wanna tell us about the limited edition hand pulled screen print that will be available after the opening of the show?
I think its gonna be a limited edition 'zine with a screen printed cover ... I'm still working on it.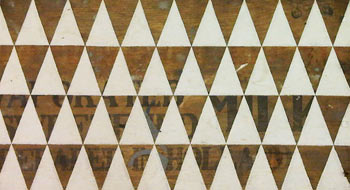 What's with the "Blind by Stardom" title? What are you hoping people get out of viewing your exhibition?
"Blind By Stardom" is a comment on the superficiality of society and how fame and celebrity status are the main objectives of today's youth. With the works in the show, I am encouraging the viewer to look past what is seen on the surface and look beneath what is initially apparent.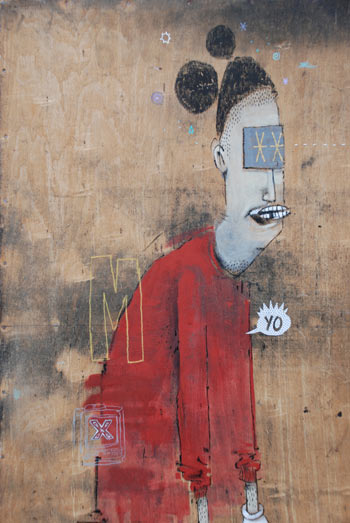 How did you get your start in the art world? How's it going? And do you have any tips for young artists?
StolenSpace were the people that gave me my first opportunity to show artwork in a gallery. They continue to believe in what I do and that's why I still work so closely with them.?. As far as tips for young artists I really have no idea ... I suppose keep working on shit you believe in and be nice!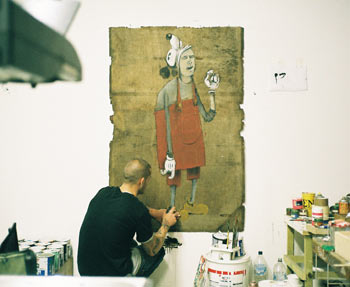 Any good stuff lined up for the rest of 2010 or next year that you'd like to share with us?
I'm going to try and learn how to tattoo, I'm going to work on a book with my good friend Viktor Vauthier and hopefully start planning a big LA show for either late next year but more likely 2012.
Blind By Stardom
Solo by Word To Mother
October 8th - October 24, 2010
Stolenspace Gallery
Photos courtesy of the artist and stolenspace
Interview by Chris Osburn.