Image Gallery
"Wild Life" Winter Group Show @ Stolenspace, London
Juxtapoz // Monday, 05 Dec 2011
1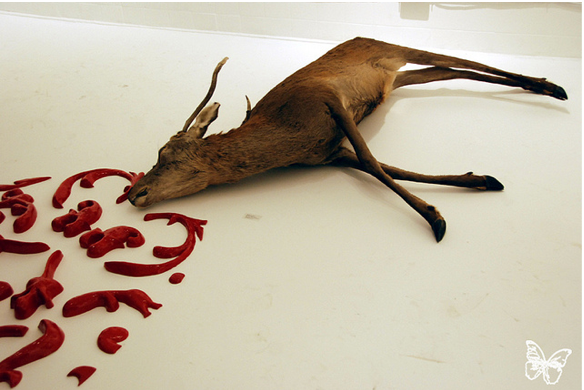 As we were waiting in traffic to visit one of the many fairs in Miami last week, Stolenspace Gallery in London opened Wild Life, a winter group show featuring works from Dan Witz, D*Face, Jennifer Murphy, Kai & Sunny, and many more. Our London correspondent,
Butterfly
, made it out to the opening, and found a dead deer on the floor. Each of the artists' work in the show was an interpretation of the living world in Sculpture, Painting & Installation.
As
Stolenspace
writes, "The wild life of wildlife. A flower growing through the crack in the pavement, the ivy scaling the fascia of a building, camouflaging, cloaking, pulling it to the ground, the tree growing around a concrete pillar, engulfing it slowly, morphing year on year. The birds nest in the rafters of a roof, made up of twigs and plastic ties, the nested young being fed the preservative pumped, calorie powered garbage bin rewards. These are glimpses of wildlife interacting, adjusting, adapting to the environment  that we've created, over, around, on top of it, the once green meadow now a sea of steel work, glass and poured concrete, trees confined to their architect planned and perfectly aligned boxes."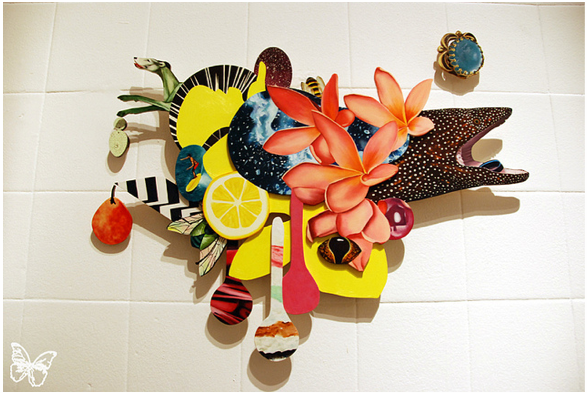 Artists include:
Josie Morway (Painter)
Rose Sanderson (Painter)
Jennifer Murphy (Collage)
Kelly Allen - (Painter)
D*Face (Mixed media)
Dan Witz (Mixed media)
Jake Wood Evans (Painter)
Roxanne Jackson (Sculptor)
Kelly McCallum (Sculptor)
Jessica Joslin (Sculptor)
Kai & Sunny (Mixed media)
Katja Holtz (Painter)
Renhui Zhao (Mixed Media)
Wild Life
Through December 18, 2011
Stolenspace
London, England