Who's Behind that Counter: Keegan Gibbs Explores the Gallery Experience
Juxtapoz // Friday, 19 Mar 2010
1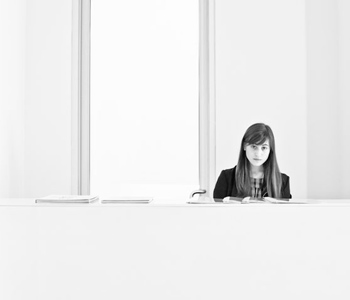 Juxtapoz contributing photographer Keegan Gibbs recently completed a photo essay exploring the gallery viewing experience.
"In the spring of last year, my friend Brendan Lynch (who you should check out his work site and rad image collection blog) and I had several discussions about the gallery viewing experience," Keegan writes. "When you enter, you often see this 20-something peering over a tall counter, giving you her attention only for a fraction of a second before returning to whatever important task she must be doing behind that counter.
"At the core essence of most galleries lies the intention to present the artwork unbiasedly and unobtrusively. Hence white walls, tall simplistic modern architecture, and clean even lighting.
"However, the experience of the interaction with the receptionist, is an intentional, often separate, experience the gallery creates.
"When you walk into many galleries, one of the closest objects to the front entrance is the reception desk where it holds information about the art, the gallery, upcoming and past shows etc… However, behind this counter, lies the gallerista.
"Often a young 20 something, she serves a purpose outside of just offering you information and price lists. She is the cover to the book that you are not supposed to judge by its cover. She is intimidating and often gives you the stiff arm. She will make you feel like you are in a place you are not supposed to be, or worse, in a place you can't understand or comprehend the deeper meaning of.
"This one aspect of so many galleries is the blurry transition point between white walled gallery and store front retail space.
"So Brendan and I decided to walk around Chelsea, an area filled with door to door galleries, and take a few unplanned portraits of the awaiting galleristas. Some might not fit the profile, or even be present at all, but almost all of them when asked for their photo, shot us a look of disgust."
More at  thekeegangibbs.com