Who's Afraid of Public Sex as Art Project?
Juxtapoz // Wednesday, 11 May 2011
1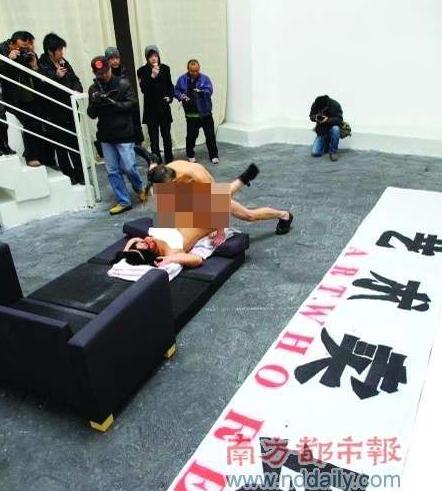 On March 20, 2011, Chinese artist Cheng Li created a public art project when he and a female partner had sexual intercourse in front of a small crowd at the Museum of Contemporary Art in Songzhuang, Tongzhou. And that act had him sent to a labor camp somewhere in China.
Li's wife has said she feels her husband has done nothing wrong. (Wait, he didn't have sex with his wife for the project? Whoa.) And Li's lawyer had this to add, "Cheng is a noted performance artist in the (art) circle. He was invited to the exhibition to perform there and he did it following the schedule of the exhibition. Although it was called an exhibition, it was not a public event; rather an internal communication among insiders."
A fellow artist in Li's circle noted "He (Cheng) was using his art to criticize the current situation in the art circle, where people seem to lose their principles. It is his way of expressing irony that art today is over-commercialized."
Public sex for the sake of public art is nothing new, but being sent to a labor camp for it is a heightened case at a time of sensitivity with artists and the Chinese government.
Read more at China.org
.