Whitney Museum Brings Guyton/Walker, Barbara Krueger, Tauba Auerbach to Chelsea High Line
Juxtapoz // Wednesday, 18 Aug 2010
1
In 2006, The Whitney announced a large expansion in New York City's Meatpacking District at the entrance to the High Line. However, in April of this year, uncertainties over the expansion into the "zoo-like" district were reported to have stalled development by the Museum. But, the Whitney Museum does have plans to put art on their plot of land whether or not there's a building there.
The three artists that have been invited to beautify the public area are Wade Guyton and Kelley Walker (known collectively as Guyton/Walker); agitprop collagist Barbara Krueger; and hot young 2010 Biennialist Tauba Auerbach. Great choices.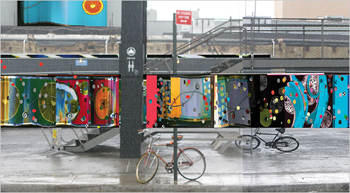 First was Guyton/Walker, who wrapped the site in bright, printed, perforated vinyl (shown above). Each installation will last six to seven weeks, with the project ending in October. Tauba Auerbach's installation, Quarry (shown below) at 820 Washington Street is up now through August 29, and converts the future site of the Whitney Museum into a psychedelic marble quarry. All of the work trailers and storage containers on the site have been wrapped entirely in photos of marble, transforming them into monolithic blanks for potential sculptures, while a photo of a grey marble quarry has been placed on the small elevated building on the site.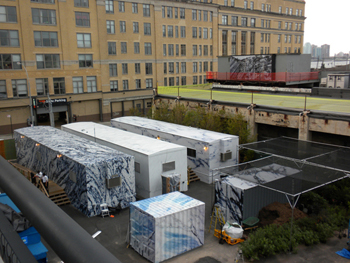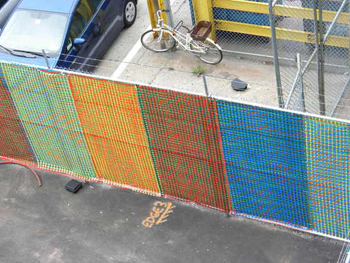 We're particularly excited to see what Krueger has in store. Her recognizable slogans such as "I shop therefore I am," and "Your body is a battleground" should cause more than a few heads to turn in the hip, shop filled Meatpacking area, as much of Kruger's text questions the viewer about feminism, classicism, consumerism, and individual autonomy and desire, although her black-and-white images are culled from the mainstream magazines that sell the very ideas she is disputing.