What's New with Amy Sol: Exclusive Interview on Communicating with the Cosmos
Juxtapoz // Friday, 22 Oct 2010
1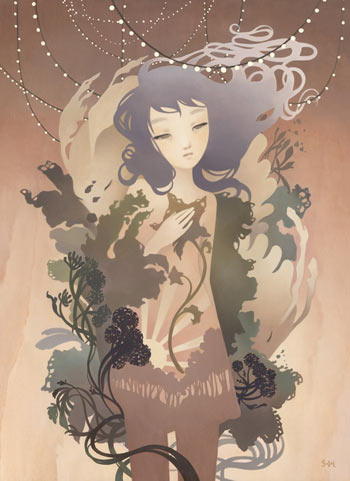 We caught up with Amy Sol (Juxtapoz #91) this week to discuss her newest collection of paintings for Dear Milky Way… Amy talks about her letters to the cosmos through painting, changing up her processes, and learning "the importance of extempore themes."
Your new showing, Dear Milky Way, will be your first solo series presented since late last year. What can we expect to see at its unveiling?
I'm guest exhibiting at Corey Helford Gallery, with a mini-solo exhibit of new work. There are 11 paintings and drawings total, all created during the last 6 months.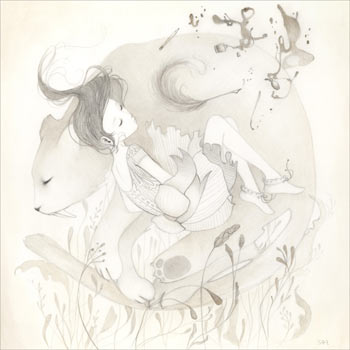 The title Dear Milky Way alludes to a sort of conversation between you and the greater cosmos. Was this your intention and what spurred this theme?
I think it's more of a one-way conversation, really. I pretended to write letters in the form of paintings, that was my motivation behind the work. Each painting started with a question, sometimes a reflection, sometimes just a feeling - like admiration or heartache, and then wove itself out of that first inspiration. I didn't try to conform the work to a similar look or feel. The theme is so broad I could probably go on forever painting about it.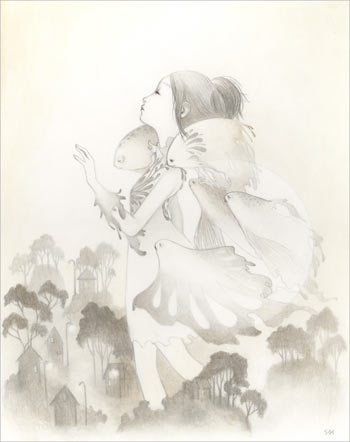 The collection seems to mark a new direction for you. In the past you planned your narratives before delving into the process of creation, but here you have spontaneously worked on each piece independently. Why the change in process? Have you adopted any new techniques to implement this?
I'm beginning to realize I don't repeat the same exact process every time I work; it really depends on my mood. This time I was feeling a desire for plasticity. The theme allowed me to paint the same way I would write a letter without a draft.
For these paintings and drawings, I started each piece spontaneously with pencil right onto the wood panel or paper. It was refreshing to work off my instincts - though it did present challenges at times, I never got bored painting.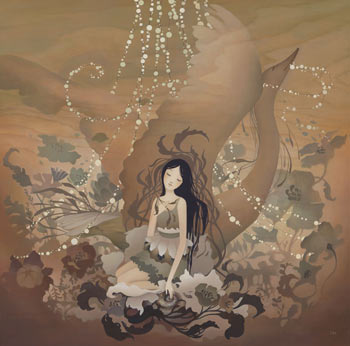 You are a self-taught artist. Were you always drawn to art? Has your style and focus shifted greatly over the years since you first started to seriously pursue art or have you steadily tried to perfect your signature style throughout your career?
My style is something I've only been familiar with for the last 5 or so years. Before that, I was really young, and searching for a technique that I felt was in harmony with me. To get there, I had to experiment intensely.
Now I feel I'm at the point where I'm trying to refine the details of my process, but it's like trying to assemble puzzle pieces of everything I've learned…and where I'm missing pieces I have to improvise.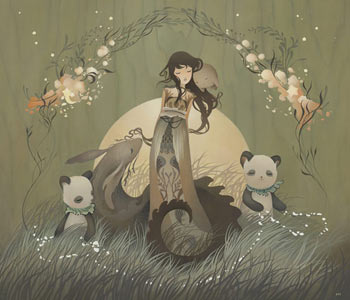 What do you hope viewers take away after viewing Dear Milky Way? What do you believe the cosmos represent and/or has in store for mankind?
I'm starting to understand the importance of extempore themes. In my case, I really believed in this idea and it's what helped stir imagery, gave me a sense of duty and direction.
I have a hard time imagining the galaxy we live in as a palpable thing, I never gave it a personality either, which is good because mystery helps make my imagination fertile. Surprisingly, I found myself doing work saturated with earth bound hopes and dreams, and far less outer-spacey elements, if not a complete lack of it.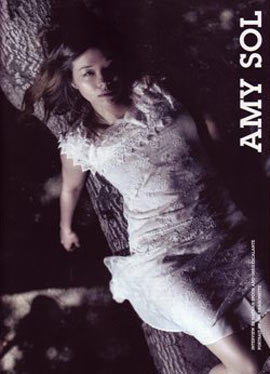 What's up next for you?
I will be silently developing the next body of work, there are a few paintings I've been working on for a couple years without a deadline, and I hope to have these complete eventually, I think I'll schedule my next exhibition when they are close to complete. There are several group exhibits, and art related projects which are scheduled in 2011. I'll share more info via my website or blog throughout the year.
For more information about the artist, visit amysol.com.
Opening to the public, alongside Chloe Early's Birdsong and Machine Sounds, Amy Sol's Dear Milky Way will take place on Saturday, October 23 from 7 to 10pm
The show will be on view until November 10, 2010.
Corey Helford Gallery