What We Think of the Turmkunst: Open Air Art in Berlin
Juxtapoz // Saturday, 07 Aug 2010
1
Affordable rent coupled with vast amounts of space and inviting infrastructure is nurtured by an open-mindedness that creates an inventive landscape. An explanation why the most daring German exhibit of 2010 is housed in Berlin.
Emerging from the Schloss-Strasse metro station, there is no mistaking I have arrived. The underground metro stop, veiled in colorful street art and murals greet me as I emerge from the train, a sort of treasure hunt guide for viewers up to the main attraction, the Turmkunst. One of the largest and most distinctive landmarks in Berlin, the Turmkunst looms over 150 feet tall, the unmistakable red futuristic architectural symbol of the 1970s.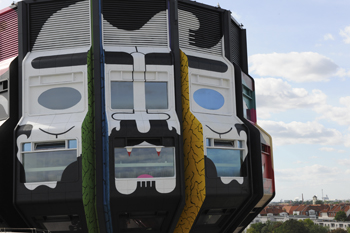 Honet of Paris, Sozyone of Spain, Flying Förtress of Hamburg, and New York's Craig "KR" Costello collaborated in literally changing the face of Berlin. Opening a new chapter in the history of art, these four artists have done something every street and graffiti artist dreams of accomplishing, going big. Really big.
For six weeks, while perched dozens of feet up in the air to paint the Rubik's Cube, each artists shaped the façade of the Turmkunst in his own distinctive style. Flying Förtress and Honet took care of the structure's top half, with Sozyone finishing work on the red façade. KR krinked the grey stem, littering the ascending stairs with hues of dripping blue paint.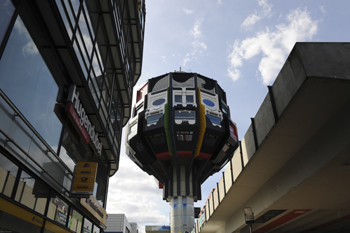 The spectacular open air gallery unfurls the development of contemporary creativity, and marks an exciting shift in the global approach to graffiti and street art. No longer must artists run around at night, secluded to back alleys and train tracks. They are trusted with a beloved monument, being formally invited to go wild. The project that will be released as a film and a corresponding book, Turmkunst—Street Art XXL, is due out soon.
Turmkunst
Now through April 2011
Berlin, Germany