Wes Anderson x Fantastic Mr. Fox
Juxtapoz // Monday, 02 Nov 2009
1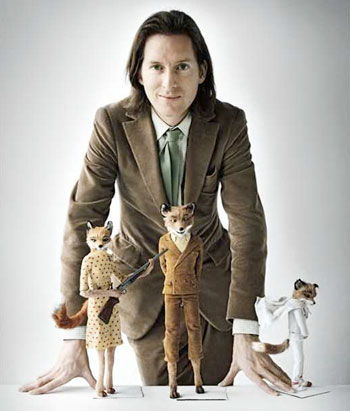 It would appear that adapting children's books into film is in fashion within cinema's creative elite these days, as Spike Jonze just released his Where the Wild Things Are and now Wes Anderson will unveil his version of Fantastic Mr. Fox.  

For more than a year, quirky director Wes Anderson has been engaged in the production of an animated adaptation of Roald Dahl's 1970 children's book Fantastic Mr. Fox.

Anderson, who has made five previous feature films including some of our all time favorites like Rushmore and The Royal Tenenbaums, has chosen a relatively simple, albeit time-consuming technology to create his new film that many Juxtapoz readers are already very familiar with: stop-motion animation.

This week's New Yorker has a great article by Richard Brody on Anderson's making of the film, explaining, "Anderson initially assumed that, given the exactingly technical format, his participation in the day-to-day shooting would be limited. Instead, he 'found a way to insanely micromanage the movie anyway.' He did the micromanaging almost entirely from his apartment in Paris."

"I wanted to make a children's movie like some of the ones I grew up with," Anderson said.

The film looks utterly amazing and features Anderson's usual cast: the voices of George Clooney, Meryl Streep, Bill Murray, Owen Wilson, and Jason Schwartzman.

We cannot wait to see the full film upon its debut on November 13, 2009.