Image Gallery
Wendell McShine @ Callaloo Company in Trinidad
Juxtapoz // Wednesday, 12 Oct 2011
1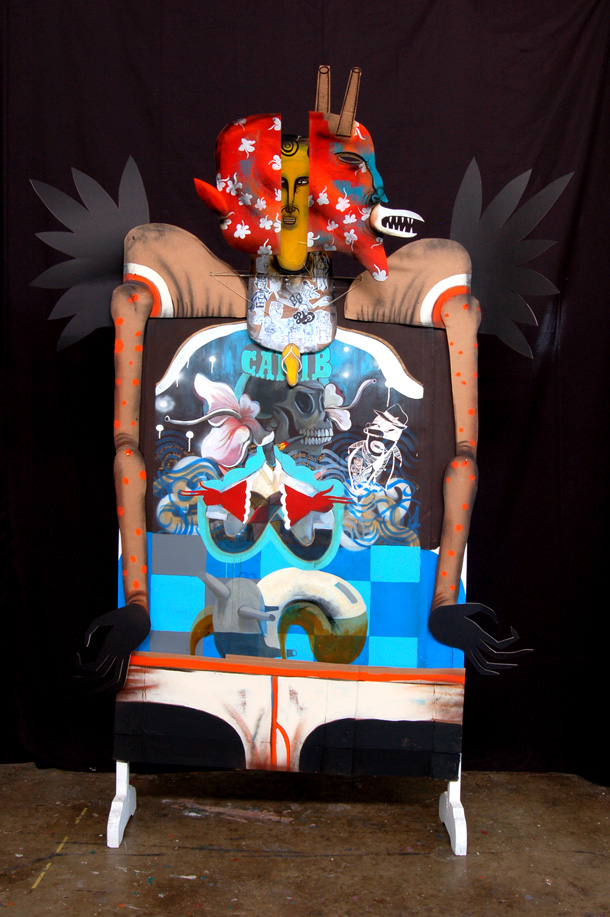 We just got photos of Mexico City-based artist,
Wendell McShine
's newest creation: a series of larger than life installation pieces in "Transcend " at the
Callaloo Company in Trinidad.
Here is the full press release:
Wendell Mc Shine is from the island of "the Carnival," Trinidad and Tobago. Currently based and producing work in Mexico City there's a lucid cross pollination expressed through stunning iconography. Shine's work, a multi level narrative that coexist in a world of wooden panels, canvases, organic animations and paper mache masks.
Through his studies in Information Graphics at the Reuters News Foundation in London and the University of Pamplona Spain, he started to incorporate elements of graphic design into his fine art array of unique paintings and explored animation. Now his work blurs the line of visual communications and moving images.
His animated shorts play an intrinsic roll in his art installations and have gained international recognition: Music video "Prosper" for 12 The Band, "Sunfly" is part of the DVD compilation of Michel Goundry's film, "The Science of Sleep." El Baile del Chihuahua is a collaboration with Mexican video artist Fernando Llanos was featured in FICCO. He's produced several shorts for IDN (International Design Network). Televisa has used his animations and creative direction for its television network image campaigns.