Welcome July 2010 with Os Gemeos and New Juxtapoz Subscription Offers
Juxtapoz // Saturday, 26 Jun 2010
1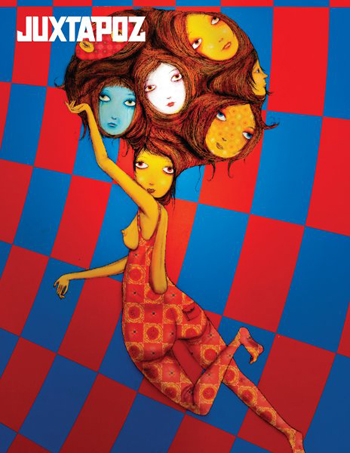 This July, our newest issue features Brazilian twins Os Gemeos on our cover. Along with the new issue comes along a set of great deals, including a free trial to our digital subscription, tee-shirt offers, and more. .
It's been half a decade since we last saw the Brazilian twins, Os Gemeos, on the cover of Juxtapoz. But they are back for July 2010, their work getting bigger and more experimental over time. We have an exclusive interview with Os Gemeos about growing up in Sao Paulo, their childhood, their family, and the fantasy world they have created and continue to paint today.
We also catch up with Deanna Templeton about her last museum show in Germany, talk to Greg Gossel about his newest show in San Francisco, converse with American Splendor comic artist, Harvey Pekar, about his newest online project, have an exclusive with the normally reclusive Richard Hambleton, look at the penguins of Alexone, and see the artwork of actor Matthew Gray Gubler.
Its like one big midsummer's art dream.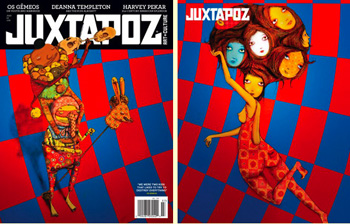 If you don't already have a subscription, get on it now here. We even have a sweet deals where you can pair a 1 year subscription with your choice of print; another deal allows you to pair a 1 year or 2 year subscription with a choice of Juxtapoz t-shirt.
For our busy, international, or tidy readers, we also have a Digital Subscription offer. If you're not sure this option is for you, test it out in our complimentary trial offer, which will send you 3 editions for free! Details here: www.zinio.com/juxtapozfreetrial