Walrus TV Artist Feature: HVW8 Production House
Juxtapoz // Monday, 30 Mar 2009
1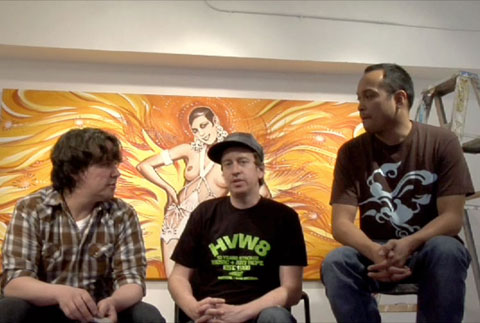 HVW8 Production House is comprised of Tyler Gibney, Dan Buller and Gene Pendon. True to their moniker, the trio creates joint works of art featuring musical and political "heavyweights." Their canvases started out as large format record covers, but now they portray political activists in addition to musicians.
HVW8 Production House does live painting, often with musical performances and they have toured the world with their multi-media exhibit. Watch the HVW8 interview feature on Walrus TV to hear them talk about how it all started, and how they combine talents to create compelling works of art.
About HVW8:
Heavyweight Production House (HVW8.com) was founded by Tyler Gibney and Gene Pendon in the spring of 1998 in Montreal, Canada in a collaborative effort with a group of like-minded artists and designers to create a vehicle for their art & design work. Drawing from the urban environment, Heavyweight developed a mix-blend of styles & skills accumulated from a free association of intuitive interests - peripheral influences included '70s funk, '80s new york graffiti, comic art & old lp covers. Heavyweight tapped into a growing artistic community, extending its creative network to include producers, DJs, musicians, film makers as well as other artists and designers. What surfaced was a Heavyweight version, street-style campaign of underground parties, music & art shows all housed and produced under one roof - forming the main elements of Heavyweight's creative foundation in art, design and music.