Visual Street Performance: Urban Art in Lisbon
Juxtapoz // Saturday, 03 Apr 2010
1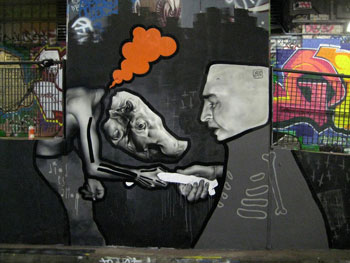 Visual Street Performance (VSP) is the biggest event of street art held in Portugal. After the 5th consecutive year in Lisbon, organizers are also bringing the event to the city of Porto. VSP involves a collective exhibition and parallel activities with music, painting sessions, and graffiti events with specially invited artists from Portugal and abroad. It will run April 8 - April 22, 2010.
VSP will also include debates, films and, for the first time, a "chalk battle" open to all those who wish to take part. The objective of the VSP collective is to extend the workspace of these urban artists within both indoor and outdoor areas in order to develop and explore new technical and artistic possibilities. It also promotes their work to a wider public, now that urban art is truly a global phenomenon, in order to share experiences and results.
The first VSP exhibition was in 2005 in the old Interpress building in Bairro Alto, and it immediately became a benchmark for urban art in Portugal. Through the work of the VSP members, the legitimate existence of graffiti was recognized as an artistic activity in indoor environments, allowing for dialogue with a wider audience.
Several yearly editions succeeded this first event, in 2006 still in the Interpress building, and in 2007 in the Braço de Prata factory. During this 2007 edition, space was given to proposals of both individual and collective creativity in different media, from mural painting to photography, and including graphic expression and object personalization. A book was also launched, "Visual Street Performance", a first serious attempt to publish information about the collective.
Take a look at great work by BestEver of London, one of many artists participating in VSP.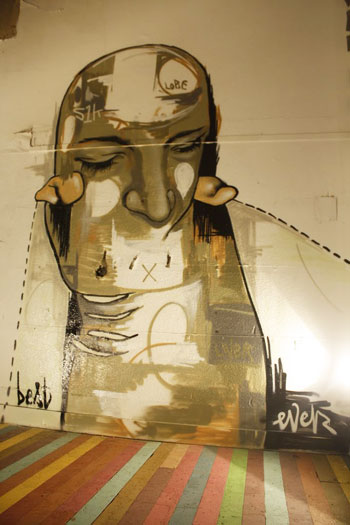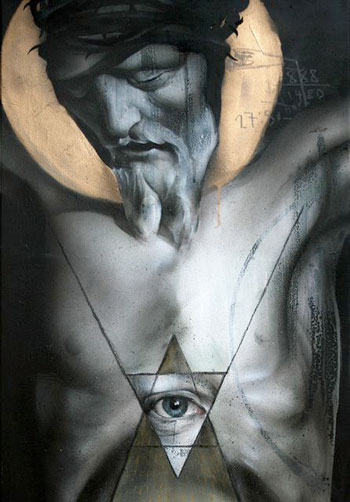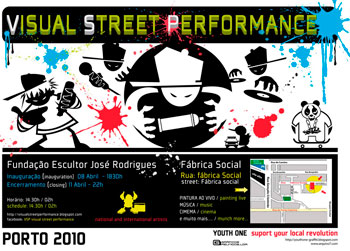 Official website: www.visualstreetperformance.com