Vintage Futurism: Q & A with Kofie by Greg Escalante and Nathan Spoor
Juxtapoz // Thursday, 16 Apr 2009
1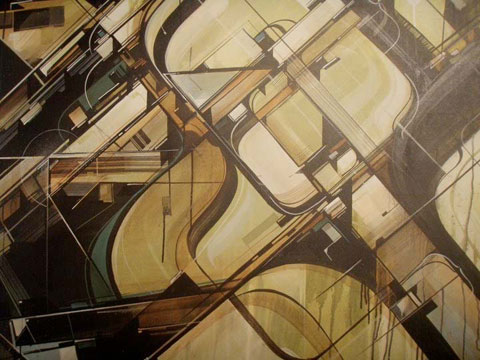 Kofie One (Juxtapoz #73) has put together possibly his most ambitious collection of works to date: Vintage Futurism, held last month at the infamous 01 Gallery in Downtown LA. This new body of work features the latest evolution of this died-in-the-wool aesthete, a true Los Angeles native unafraid of staying relevant though his continued progression.

A true craftsman and master draftsman, Los Angeles virtuoso Kofie One defies stagnation once more with his latest exhibition of new works, Vintage Futurism. Kofie has taken his roots in the 90s graffiti scene (often regaled as the "Silver Age of West Los Angeles Graffiti Art") to another stage of his fluent intellectual and architectural abstractions of his distinct lettering. From his Echo Park studio, he shares some insights on his work and ideas, as we see a few images from the closing moments of his most cohesive efforts to date.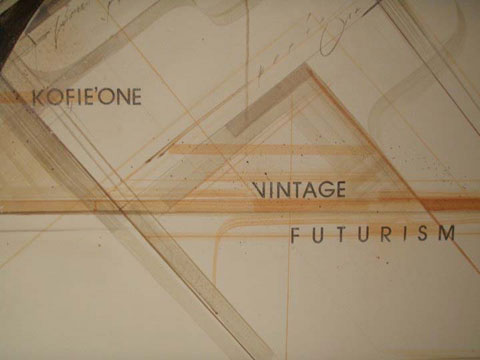 So please tell us about this new body of work you showed recently, what was the initial thought behind Vintage Futurism?

Christina Ochoa was my curator for the exhibition. She visited my old Boyle Heights studio in 2007 to plan for a 2-man show that never came to be due to technical issues. We crossed paths again during Mear's show at 01 Gallery last Fall and asked if I was interested in a solo there. So this show was our chance to finally work together and give me the opportunity to share my assemblage, collage and recent works as one complete body. I have obviously been in group shows here and there, but never had the opportunity to show the variant range, in a larger space, and to a larger public.

On top of that I wanted to highlight my gradual transition from the title of Graffiti artist to a Mixed Media artist, a description I feel represents me and my works as a whole. I haven't abandoned my foundation, it's just some folks cant shake their limited ideas of what an artist based in Graff can accomplish.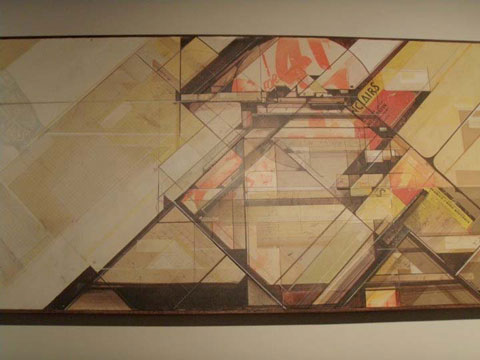 Tell us a little about your process if you will sir, how do you approach a new piece?

The majority of the work in Vintage Futurism is a foundation of collage. Out-dated paper goods ranging from office supply to packaging covers are reconstructed loosely onto the surface, usually off of crossing 45-degree angles. Then detailed technical watercolor like applications tie in and outline the collages. Everything else in between is little tweaks and techniques that give each piece a distinct aged look, a push and pull.
As mechanical as some of the work looks, the process is primarily organic.

There is a literal 1960s to 70s theme in all of the works, from the Mahogany stained wood trim to the color pallet. I obviously have an affinity to that era of art and design that comes naturally to me. Add the fact that I also admire the architectural direction of the Futurist Movement and you have a sort of clash between old and new, playing with the idea of a refused past colliding with a structured tomorrow, ultimately playing with the past and the future.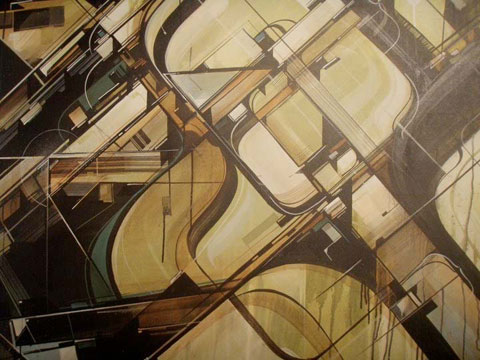 Where did you learn the bulk of your technique or talent as a visual artist? What were your early days as an artist like, as you found your formal voice?

There is no specific point that explains my technique. So many ideas, people and movements inspired my constantly evolving aesthetic. Being an observant, creative and curious child helps very much. Learning how to paint the Graffiti was a primary factor for me. The art of cutting and chopping colors on a vertical surface with hardware store supplies. That's where I picked up color and layering, points of perspective and arrangement. All of that plays into my work today.

My mom received a Bachelor's Degree in Fine Arts from UCLA about the time I was conceived. Richard Diebenkorn was one of her teachers, and his aesthetic definitely inspired her style. Her works we always in and around the apartment and I feel I picked up from there. She didn't directly teach me techniques, but the genes definitely assisted in my creative drive. She had been passing down her art supplies to me as early as 88. My earlier works were illustration and marker technique based and all focused around my surroundings as a skateboarder from West LA.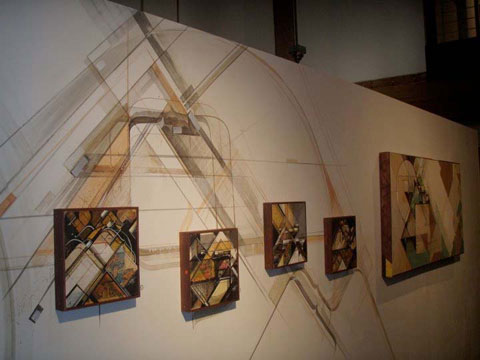 Did you attend art school, or were you affected by the latest wave of art schools?

I have no formal degree in the arts. I didn't even wish to peruse it directly after high school. I attended Santa Monica College for a few semesters, and then just fell off the academic road. More recently I played with the idea of attending an art school. I think I have more patience and appreciation for the concept of school now as an adult.
I see from your website that you refer to your work as "drafting," is that correct, and can you expand on that a little for us?

Draftsmen & Drafting are inspirational words for me. I keep these words in my vocabulary and eyes, they manifest. I'm always in my notebooks sketching and developing. Rough draft ideas are mapped out. It's steady digging with a somewhat open-ended concept.

When the opportunity came for me to create a web sight for my work I didn't want to have it titled under my art name, that's just to easy. At the time I was in development for my clothing project 'Draftsmen", so it all just made sense. Keep it moving.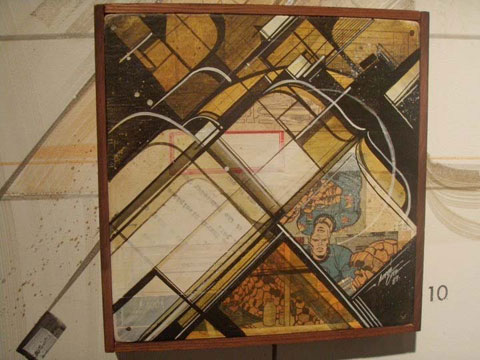 Being an LA mural artist, do you also have a graffiti background, or are you an active player, any thoughts on the current state of the modern graffiti artist or scene?

I'm not comfortable with the title muralist. I don't want to take away from true masters that deserve the title. I do happen to paint ephemeral walls here and there with my crewmembers or on solo jaunt, with no real idea of how long they will last. In the last couple of years my external painting days have dwindled down. A little burn out on my end has lead to me going minimal on exterior walls, both public and in abandoned stash always.

In terms of the current state of the modern graffiti artist scene? I'm out of the loop on that one, but I still believe that LA has been a source of inspiration for the Graffiti world in general, despite its ups and downs. And the best Angelinos are growing older and discovering that they are evolving into dangerous fine artists.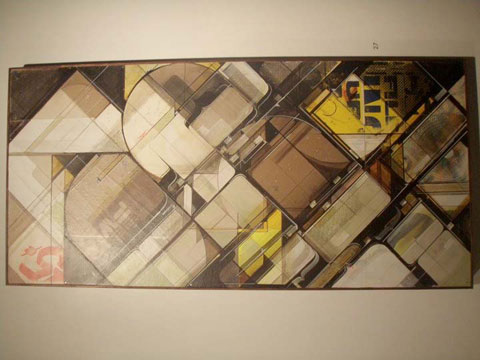 Do you fill your time with anything else during a day, besides making new work?

If I'm not working on art directly, everything else I do is somewhat related to it or assists some creative endeavor. The studio is in such rotation that i need to straighten it up every day. On weekends I drive around to sales and gather supplies and random items I enjoy collection. When the opportunity finds me, i like to go through found cassettes and records, pull samples from them, then digitize to reassemble them through my computer to make eccentric beat loops and long, strange waves of sounds.

Do you feel like you've had any great influences in the art world, as artists, works that stand out to you, or even individuals outside of the artistic sphere?

I do feel I have made some gradual contributions to the art form as far as west coast is concerned. I've been putting myself out there for 16 years under my art name. I've learned a lot and shared just as much.

I take in inspiration from many genres in and out of art and music. I am always inspired by multi-taskers, creatives who excel at a number of different outlets naturally. The self contained creative that ventures outside of the box.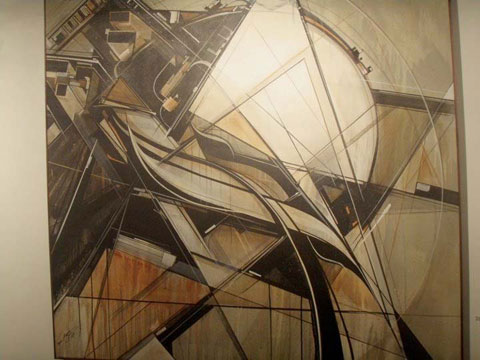 What is one thing you like to do, outside of painting or planning out new pieces?

Enjoying the company of a muse.
Do you find time to read much, and if so, what are you reading? What are your top 5 books?

My mother was the bookworm in the family; tons of books, reading herself to sleep every night. I respected that, especially because I cant do that. I'm too restless. I read off of images. I have to be locked in a plane just to get through a book. My reading habits are in small doses and usually pertain to art research and just plain curiosity. The last 4 books I have been frequenting are,

Ed Moses: Retrospective of the Paintings And Drawings by MOCA
Unfiltered: The Complete Ralph Bakshi
Radical Reconstruction by Lebbeus Woods
New Creative Printmaking by Peter Green (1969)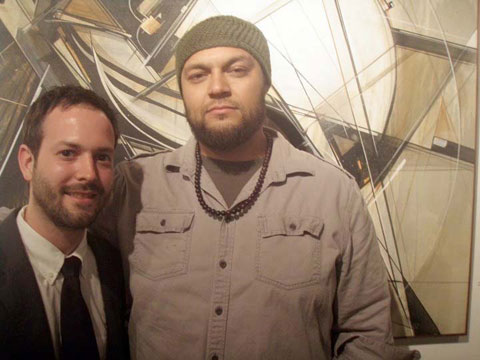 Kofie, at right, with NY art appreciator Brandon Coburn, who flew in to take in the show in person
Along those lines, what about movies, film? What are your top 5 movies or films of all time?

Blade Runner, The Dark Crystal, Street Fight, Wizards & Sin City.

Does music or sound play an important role in your work?

It's one of the most important parts during the production of works. It inspires my thought process, to the point where the music I make and mix is almost equal to the work itself. Layering and texture. Mood and environment. The style of classic underground Hip-Hop music production is the best way to describe my work. The art of sampling from obscurity and life, then rearranging the placements in your own style creating something completely original.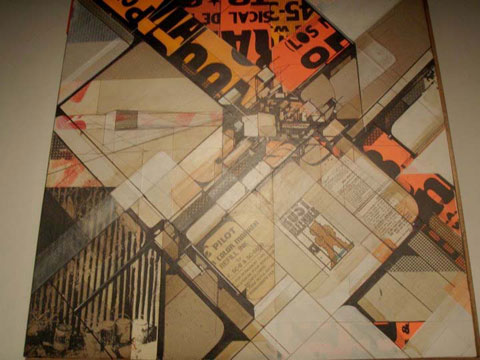 What's one thing about LA that keeps you here, or draws you to the city?

It's been my home base for 30+ years now; I'm comfortable here. My friends, family and the food keep me here as well.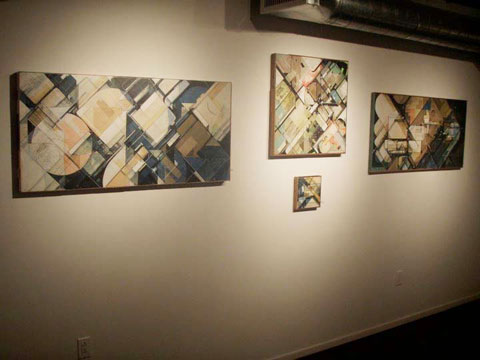 As someone who's shown all over and worked with many different hosts, venues and companies, what is your take on how you approach your work for personal rather than commercial activity?

Commercial is work, some form of guidelines I have to run by in order to get the job completed the way it is asked.

Deadlines.

Personal is all me. I do things at my own pace. No one to tell me right from wrong. I tend to get looser and dirtier when it's personal work.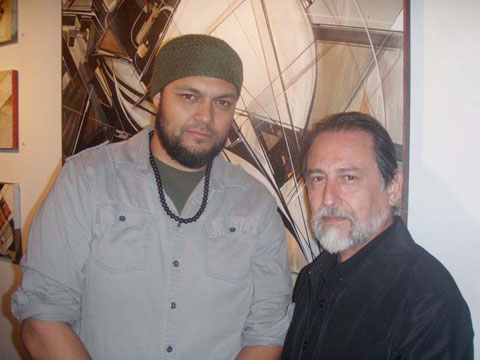 Kofie One with graff legend extraordinaire Chaz Bojoroquez (right, Jux #98 cover artist), LA's finest.
And lastly, what bits of advice might you give to the younger generations taking on the mantel of creativity in this day and age?

Well, like my father said to me at a young age, "Art never did nothing for your mother, a waste of time. Go get your Class A License and drive you a Big Rig".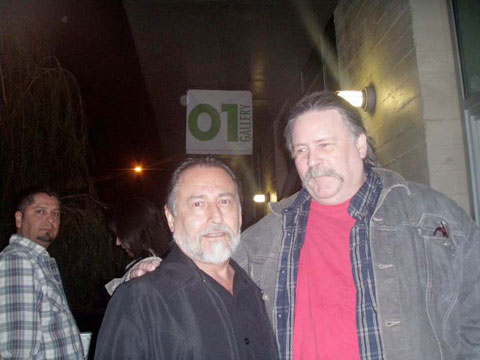 And the coup de grace for the post: Chaz with 01 outlaw gallerist John Pochna
Photos & Words by Greg Escalante and Nathan Spoor.
More on Kofie One at keepdrafting.com