Video Interview with Matt Hebermehl on his Installation 'Birds in Flight'
Juxtapoz // Thursday, 23 Sep 2010
1
Birds in Flight: An Installation by Matt Hebermehl will be on view from September 23, 2010 – March 23, 2011 in the Telfair's Jepson Center. The work—featuring five wooden birds suspended from the ceiling—will be the first installation in the Eckburg Atrium that takes advantage of its glass volume. Following last winter's installation by Shih Chieh Huang, Hebermehl's Birds in Flight continues the museum's use of the Eckburg Atrium for site-specific projects.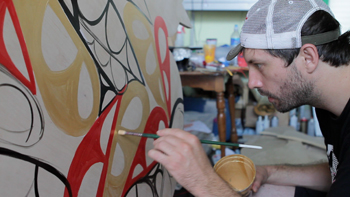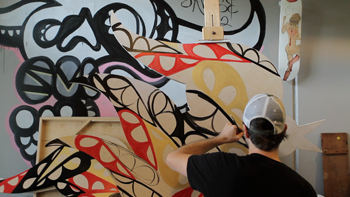 "Playing off the title of Brancusi's iconic masterpiece, Birds in Flight elegantly animates the interior spaces of the Jepson by using Hebermehl's own emblematic bird form," said the Telfair's director, Steven High. "Over the next few years, we plan to continue to periodically commission installations in this challenging, yet gorgeous, public space."
About the Artist:
A nationally recognized artist and illustrator, Hebermehl has won awards and accolades from sources such as American Illustration, the Society of Illustrators (New York), the Society of Illustrators (Los Angeles), Applied Arts, and Juxtapoz Magazine. His signature pattern and icon-based work has been exhibited in cities throughout the country, including New York, Los Angeles, Chicago, Atlanta, and Miami. Several examples of the artist's work are held in the permanent collection of Telfair Museums.
Birds in Flight: An Installation by Matt Hebermehl
Telfair Museum
September 23, 2010 - March 23, 2011
Opening Reception September 23, 2010
6 - 8 pm
Jepson Center for the Arts, Telfair Museum
Savannah, GA