Victor Castillo: Strange Fruit
Juxtapoz // Monday, 25 Jan 2010
1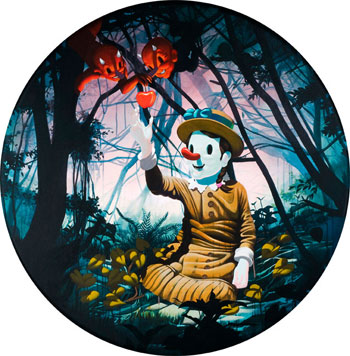 A moral allegorist, Chilean artist Victor Castillo pairs classical painting with cartoon-like characters. He paints children in dark secret gardens, where they innocently reenact violent media images with brutality and indifference.
Get to know Castillo's characters in an upcoming solo show, Strange Fruit, at Merry Karnowsky Gallery in Los Angeles opening February 6, 2010.
Most of the characters in Castillo's paintings have phallic, hot-dog shaped noses, humorously suggesting Pinocchio. He also makes reference to contemporary culture, human error and vices, politics, and the loss of values in the increasing consumption of modern life, which he sees as an insatiable desire that blinds us.
Castillo's work has shown in Spain, Chile, Cuba, Argentina, Brazil, Japan, Germany, the United States, Canada, Belgium and Taiwan, and has been featured in Juxtapoz.