Vans Design Contest for High School Artists
Juxtapoz // Wednesday, 10 Feb 2010
1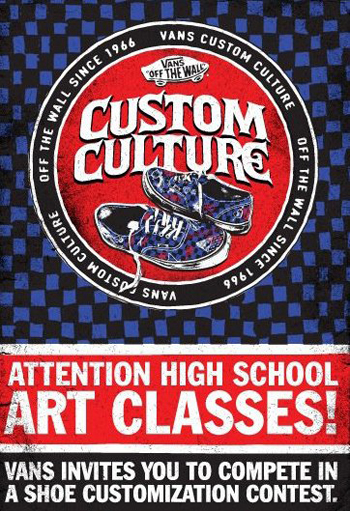 Whether you doodle during math class or have masterpieces on canvas stacked at home, here's a great new opportunity for high school artists and art classes! Vans just launched a new, nationwide shoe customization contest called Vans Custom Culture.
Registration begins March 1st, 2010 for this unique contest aimed at high schoolers. Art classes are invited to complete in a shoe customization contest that grows on a state to regional to national level, culminating in a high-visibility event in Los Angeles this May.
Vans staff will select ten high schools from each region (North/South/East/West) to compete for a spot in the regional finals.
A panel of judges including Vans artists and athletes will then choose four schools to compete at the final event in LA.
Sounds a whole lot better than competing for a spot in the regional spelling bee, doesn't it?
Grab all the details at www.vans.com/customculture and/or  www.facebook.com/vanscustomculture