Van Arno Solo: A Change of Skin
Juxtapoz // Saturday, 19 Sep 2009
1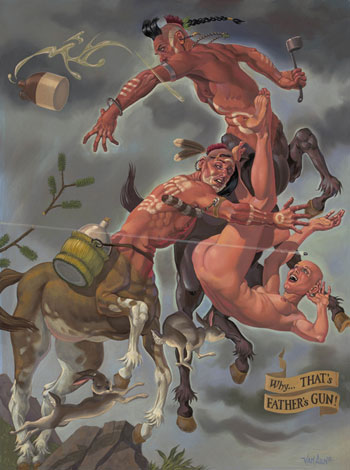 Los Angeles artist Van Arno will join Corey Helford for his second solo show at the gallery entitled "A Change of Skin". The process of transformation and evolution is no easy task, and Arno skillfully narrates a dynamic collection of Darwinian daydreams in his latest series of oil paintings.
Werewolves, centaurs and women shed their original skin, emerging as new breeds of enchanted beings and barbaric beasts. Joining them in the fray are representations of transformation by means of natural selection, cross-species parenting, Black Arts, and even the car crash that altered Montgomery Clift's famous face.

Larger and more ambitious than before, "A Change of Skin" marks a new direction for the artist as Arno introduces multiple characters and a looser, more gestural format to his work. The exhibition will also feature 100 limited-edition silk screen show prints that will be available only at the gallery.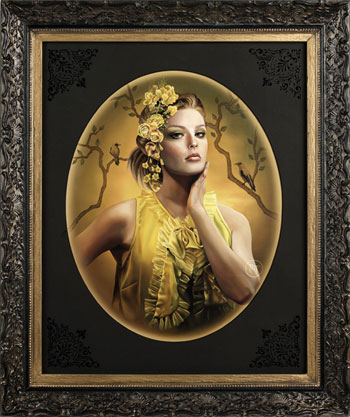 In the loft, guest artist Melissa Forman unveils "Garden of Shadows", her second series of works at Corey Helford Gallery. Inspired by ancient medicine, Forman's dark yet delicate paintings study the Four Humours, a medieval method of diagnosing imbalances in patients.

Each humor is visually illustrated combining its unique properties such as color, mood, temperament, disposition, and plants. Rich colors and deep black backgrounds add to the ethereal mood and a subtle sense of surrealism in each painting, ultimately sending a message of hope and good things to come during dark times.

Open to the public, the reception for "A Change of Skin" and "Garden of Shadows" takes place on Saturday, October 3, and the show will be on view until October 24, 2009.
More info at www.coreyhelfordgallery.com


Van Arno
Van Arno was born in Chattanooga, Tennessee and attended Otis parsons School of Design in Los Angeles, California where he supported himself working as a bouncer in nightclubs and adult video arcades. As a young illustrator, his images appeared on album covers, video game box art, and nightclub posters around the city. He has exhibited in galleries worldwide including Jonathan Levine Gallery, Shooting Gallery, Copro Nason, Mendenhall Sobieski and Galerie d'Art Yves Laroche. Several of his works were included in a national survey of Lowbrow painters at the Hollywood Art and Culture Center in Florida along with Mark Ryden, Chaz Bojorquez, Kenny Scharf, Anthony Ausgang and others.
For more information about Van Arno please visit www.vanarno.com.

Melissa Forman
Melissa Forman was born and raised in Hartville, Ohio. Since she was 14 years old, she has been drawing and painting commissioned portraits. In 2002, Forman graduated with a BFA in Illustration from Columbus College of Art and Design and went on to work as an illustrator at a large greeting card company in Cleveland. With her days full of teddy bears and birthday cakes, she spent her nights exploring darker, more evocative themes and building upon her roots as a portrait artist. Forman uses the art of portraiture to explore the elegance, beauty, and sincerity of human emotion. She draws upon her own experiences to create symbolic, idealized characters and the worlds they inhabit, finding beauty in the subtle realities of the human experience. Her paintings have been shown in galleries across the country from New York City to Los Angeles, and her growing list of prominent collectors includes Mark Parker, CEO of Nike.
For more information, please visit www.melissaformanstudio.com