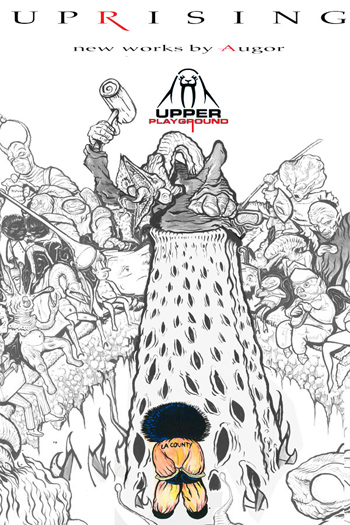 LA based ad busting and graffiti master Augor (Juxtapoz #99) has a new solo show in the works. "I have been working over the last 2 months on a new body of work surrounding the iconic character of the 'gollywog.'"
"It is a character from children's literature created byFlorence Kate Upton in the late 19th century, inspired by a blackface minstrel doll which Upton found as a child in her aunt's attic in Hampstead, North London," Augor tells us.
"My mother collected these dolls her whole life and I was raised around them as my first toys.
"The interest in them is close to home and I was always into collecting toys. This being such an old vintage toy made it so much harder to collect.
"My new body of work uses the gollywog as a channel for me to put myself into my paintings.
"A lot of the pieces are using the gollywog to represent myself going through fantasy-like situations involving my own created characters as well as characters that have been inspirations to me since a child. Creating a new world of fantasy that hopefully shows my matured narrative as an illustrator.
Augor continues, "The body of work is created in many mediums There are handfuls of new water color paintings detailed in ink on paper, along with a series of wood panel pieces painted with acrylic and cell vinyl.'
I also put together larger scale oil paintings done under the influence of mushrooms that I think will have people bugged out as well."