Upper Playground x Astro Gaming Headsets
Juxtapoz // Tuesday, 28 Jul 2009
1
"This project has enabled both brands to fuse progressive art with the best in video gaming equipment," said Brett Lovelady, Founder of ASTRO Gaming. "We think video gamers deserve more expressive, relevant style, in addition to the latest technology in their products. And we know Upper Playground's fans like to play games too. Seems like chocolate and peanut butter all over again."
The Upper Playground Artist Series Speaker Tags are available as part of the Upper Playground Edition A40 Audio System (available for $249.95), UP Edition A40 Headset ($199.95) and standalone Speaker Tag sets ($24.95) in limited quantities sold exclusively online at the Astro Gaming site.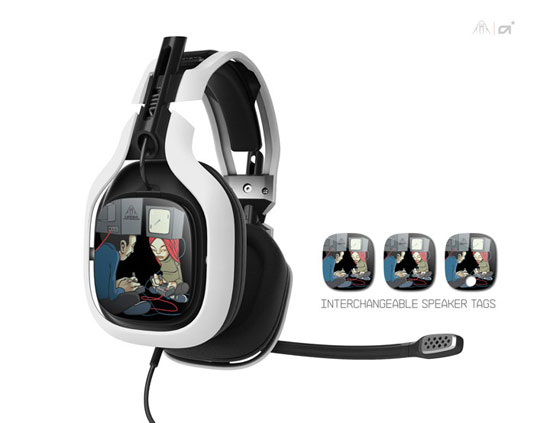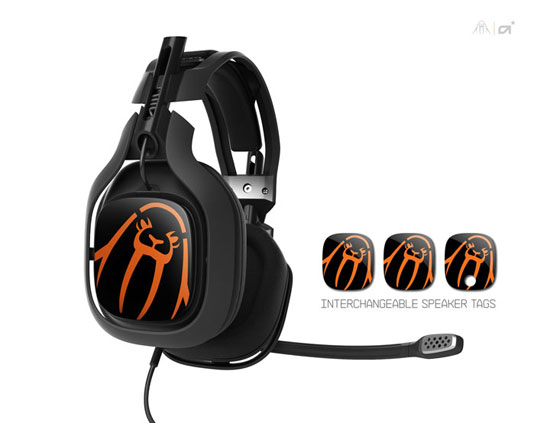 Win An ASTRO Gaming Headset & Artist Series Speaker Tags
As a special thank you to their loyal fan bases, Upper Playground and ASTRO Gaming are giving away one A40 Audio System complete with all three Artist Series Speaker Tag sets. To enter, fans need to (1) follow both @UpperPlayground and @AstroGaming on Twitter.com; and (2) "retweet" the contest on their own profiles. For details on rules of entry, check out the Upper Playground website.
About the A40 Audio System
The A40 Audio System, consisting of the A40 Headset and A40 MixAmp, is a critically acclaimed solution for Xbox 360, Playstation 3, and PC gamers. The A40 Headset is the most versatile and user-configurable gaming headset in the world, and offers players an unprecedented amount of customization features. The A40 MixAmp combines class-leading voice communication capabilities with pinpoint-accurate Dolby Digital surround sound.
Contest Official Rules here...
About Upper Playground:
Based in San Francisco, CA, Upper Playground is the leader in today's progressive art movement with its innovative apparel and accessories line and art galleries. Since 1999, Upper Playground has been recognized as a catalyst for the fusion of fashion with fine art. UP apparel and accessories are designed by local and international artists including Sam Flores, Jeremy Fish, Estevan Oriol, David Choe, and Alex Pardee. The Upper Playground collection is sold in over 300 boutiques worldwide and online. In addition, Upper Playground has stores and galleries in San Francisco, Berkeley, Sacramento, Los Angeles, Portland, Seattle, New York, Mexico City and London.
About ASTRO Gaming
ASTRO Gaming creates premium video gaming equipment for pro gamers, leagues and their lifestyles. Spun-off from design powerhouse Astro Studios, known in the gaming world for designing the Microsoft Xbox 360™, Alienware PCs, and HP's Blackbird PC, ASTRO Gaming produces a line of gamer centric "tech-life" products, supporting this rapidly growing community. ASTRO Gaming's product line includes the critically acclaimed A40 Audio System, the Official Licensed Headset of the Major League Gaming Pro Circuit, and the new Transport Series of gaming gear bags.
About Sam Flores:
Fifteen years after first arriving on the West Coast from New Mexico, Sam Flores, an art school evacuee and self-taught illustrator, has established his place in the modern art movement as a master of fine art and product design. In keeping with the signature styling of his graffiti art background, Flores' current fine art work carries a voice and vision that is instantly identifiable. The exotic characters and neutral landscapes he is known for are at once lush and meticulous. In addition to admirers of his original paintings, Sam Flores achieved popular recognition through clothing lines, skateboard and snowboard designs, signature home decor pieces, and a limited edition collection of vinyl toys. His artwork appears regularly in publications such as Juxtapoz, Urb and Wired Magazine, and he has shown in galleries in Japan, France, Italy, Germany and Singapore, among other locations throughout the world.
About Munk One:
Munk One, a.k.a. Jose A. Mercado, is a contemporary American illustrator and fine artist. He is most noted for creating artwork for bands including Korn, Avenged Sevenfold, My Chemical Romance, Bad Religion and many more whose merchandise can be seen throughout the world. Munk's fine art paintings in gallery shows have gained much attention with no signs of slowing down. Proficient in both traditional and computer media, Munk's art ranges from political to fun/bright/whimsical to dark and grotesque, and sometimes a mixture of all three.