Ubik's Place in Dubai's Underground Art Scene
Juxtapoz // Saturday, 25 Jul 2009
1
Ubik, who is known for exploring clichés—working within their confines, creating around them, and examining them point-blank—has an upcoming debut solo show "iamwhatiam" at the Jamjar Gallery in Dubai.
"iamwhatiam" is a megalomaniac, shameless and honest trip into the mind of the artist. The show deals with the "what ifs", "what nots" and the in-between randomness that's managed to be a constant source of inspiration for the artist.
Visually Ubik's style is driven by science fiction, tribal and geometric patterns, organic flows, typography, urban decay, the colorful lifestyle of street art, psychedelic rock and popular culture clichés.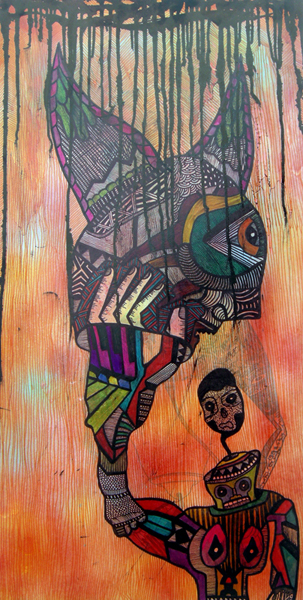 The artist will be working in the gallery for 10 days (Aug 3-12) creating site-specific works and installations. Working live and playing with the idea of performance, Ubik encourages the public to drop by and check out the artist at work. The gallery will be littered with a host of site-specific works and installations on found wood and other random objects. Some serious and some mocking, some may be shocking.
The opening night will also showcase a collection of carefully detailed works made specifically for the show over the past few months. Those familiar with the artist's works will be in for a surprise.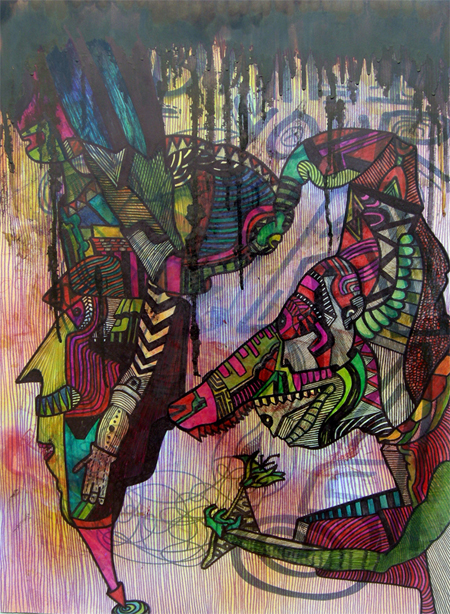 Here is the Artist's Statement, which we found pretty entertaining:

"I was a confused and stoned 17 year old, when I decided to make my living as an artist. But I couldn't draw to save my life, so I took the advice of a friend, who suggested that I should probably get stoned and listen to Pink Floyd and sketch. He said it might just help me concentrate. Such a cliché.

The visual language and feel of my works has been a deliberate mix of both high and low brow culture blending elements of film, music, literature, poetry, science fiction, pop culture and clichés. Though my works seem to be very automatic and very disconnected, there exists a range of underlying symbols and narratives that urge the viewer to look carefully past the details for a richer definition of my thoughts and ideas.

My repetitive patterns evolve from smaller bits of unsure reasons and ideas that keep getting remixed over time to form something new. I try and capture the very essence of a cliché."

Infusing the patterns of realism around me, I question the need for reasons behind imagery and the subsequent emotions that it invokes within each of us. I also sometimes paint "a pretty picture", because it makes no sense to me. The core of my work deals with existentialism and absurdism, and the underlying clichés associated with it. I'm yet to figure out how to deconstruct a cliché " - Ubik