Twisted Sisters: The Fashionable World of Rodarte
Juxtapoz // Tuesday, 19 Jan 2010
1


"Most of the time, the Mulleavys' dresses hover mysteriously at the point where balanced meets busy, and beautiful meets baroque," writes Amanda Fortini in her article Twisted Sisters for The New Yorker. But their recent designs, while arresting, do not perform the simple duty of most women's clothing—to make the wearer look either pretty or sexy. 'The most unhappy Laura and I have ever been was when we heard that we made a pretty dress,' Kate told me. 'We want to make people think, and, once you decide to do that, you will have people that won't like what you're doing.'"

"Neither Mulleavy sister has any formal fashion training. 'We don't know anything about what we're doing but our instincts,' Kate says.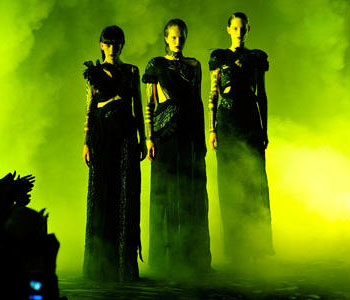 "The sisters learned basic sewing techniques from their mother, Victoria, an artist who painted, did ceramics, and created mosaics. (The name Rodarte, pronounced 'Rodar-tay,' comes from her maiden name, Rodart; the 'e' was dropped when her parents emigrated from Mexico.) 'We had the kind of mom that was like, 'I want you to stay home for a week from school because you haven't seen all the Hitchcock films,' Kate said.

"Their father, a fourth generation Californian and botanist who identified a new species of fungus, is also detail-oriented and free-spirited. During the early years of their marriage, the Mulleavys lived in an unheated cabin in a redwood forest. The parents' 'rebellious' choices liberated their daughters.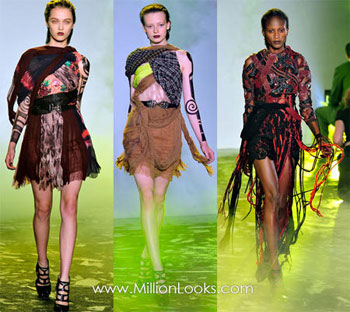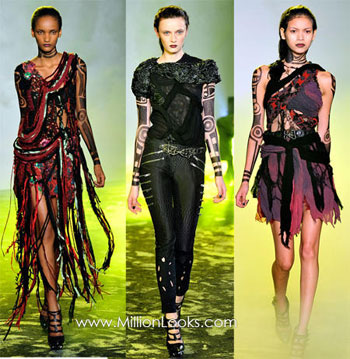 "'They were doing things that were outside of perceptions of normal,' Kate told me. 'They weren't, like, part of this mainstream life style.'

"After graduating, in January 2002 (Kate stayed a semester longer, Laura left a semester early), the sisters moved back home. They watched horror movies 'literally for a year.' They also began reading couture-sewing books. By mid-2004, with money saved from a cancelled graduation trip to Italy and the sale of Kate's collection of rare albums (a first pressing of the Velvet Underground's self titled debut album, Lou Reed's 'Berlin,' X's 'Los Angeles'), they had cobbled together sixteen thousand five hundred dollars to start their line. In six months, they had created seven dresses and three coats.

"The long, slim dresses in this initial collection—flowing, ethereal, delicate, if somewhat precious—were modeled on the redwood trees of their childhood in Aptos, a small town near Santa Cruz. At the time, the sisters were interested in playing with texture, for which tree bark serves as a metaphor; they pleated and tucked their garments like textile origami, fraying the edges with pinking shears. These methods gave their essentially classical gowns an unleashed quality.

"They sent a quirky, flattering note—a doll in a little armoire containing miniature paper versions of their seven dresses—to Cameron Silver, the proprietor of Decades, a vintage store in Los Angeles, asking him to view their collection. He agreed to meet with them and asses the clothes. 'It could have been a Tim Gunn moment,' Silver says, alluding to the Project Runway host and the shoddy designs he has to endure. 'But I was just blown away.'"


Read the full article Twisted Sisters by Amanda Fortini in January 18, 2010 edition of The New Yorker.

More on Rodarte at www.rodarte.net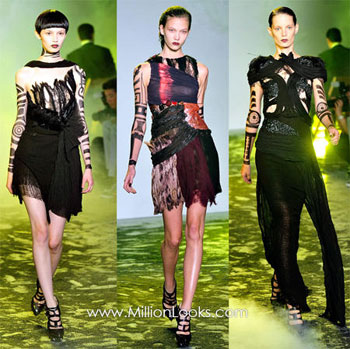 Portrait of Laura and Kate Mulleavy by Nan Goldin.