Trent Whitehead's Cornucopia
Juxtapoz // Wednesday, 27 Aug 2008
1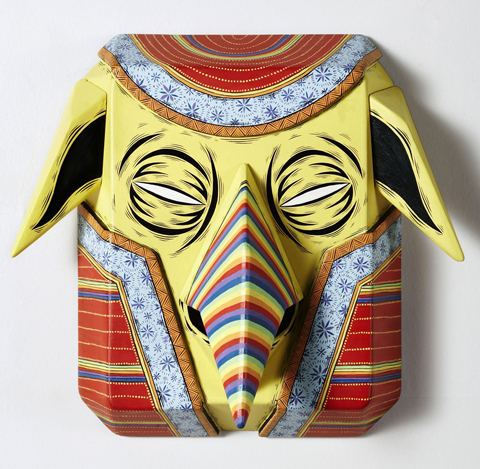 Trent Whitehead can lately be found alone, either hunched over his desk or wielding a jigsaw (Hello, Leatherface!) to complete a new batch of wooden masks and canvases in preparation for his upcoming show, Cornucopia, opening later this week (August 29, 2008) in Melbourne, Australia.

In the last year, Whitehead has put a superabundance of projects under his belt with works in the iconic Sydney gallery spaces of Oxford Art Factory, China Heights, Monster Children, and Melbourne's Paper Shadow Gallery. He also produced a t-shirt for TEENylon's Artist Product Series.

Pretty good for a surf-bound Aussie boy who apparently only started his practice in 2004.

Moreover, Trent has joined Stupid Krap as a featured artist with the added perk of sharing the World's End studio space with other giants of the Australian lowbrow art landscape: Ben Frost, Numskull, Beastman and No Tomorrow.

Trent pulls a wealth of inspiration from such skate and surf culture artists as Barry McGee, Mike Giant, Thomas Campbell, Stephen Powers and Ed Templeton.

But his skill is in how he applies those resources to his custom-built carpentry masks and canvases. Each piece represents a rich narrative, rife with kinetic, humanized beasts (with exquisite fashion sense, one may add.)

Words by Alana Armstrong.

"Cornucopia, a solo art show by Sydney artist Trent Whitehead features a highly entertaining 'broke down vaudeville'installation. The show title refers to the ever-giving 'horn of plenty'. Based around the symbolic imagery of 'magical horns', the exhibition is undeniably generous in humor and beauty.

Highly detailed handcrafted painted masks and wood panel paintings depicting horned-beasts locked in human-like battles balance an enviably dynamic body of work. The intensity of the masks and otherworldly characters capture the effervescence of the artist himself by pooling the experiences of his existence to breathe life into inanimate wood… 'like a vagabond Giuseppi to a bad-ass Pinocchio.'

As narratively intense as they are beautiful, Trent's exquisitely patterned works explore the effects of extinction in a fantastical world of horned creatures and bearded villains. Trent's characters seem about to burst with some intense expression of anger, frustration or joie de vivre. The unique symbolism paintings portray scenes of hope, desperation and loss in a deceptively light-hearted way. The overall impression is of a do-or-die mystical journey conveyed through a very human emotional landscape."

- Madeleine Boyd (Founder, Stupid Krap)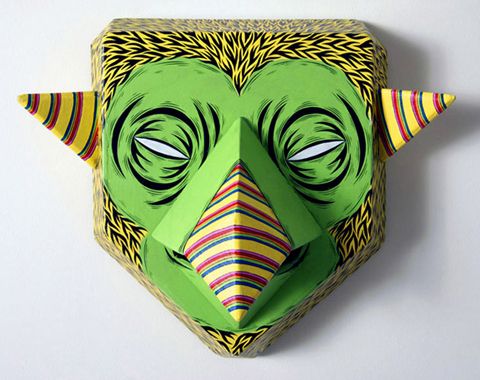 Untitled - Acrylic and ink on wood sculptured mask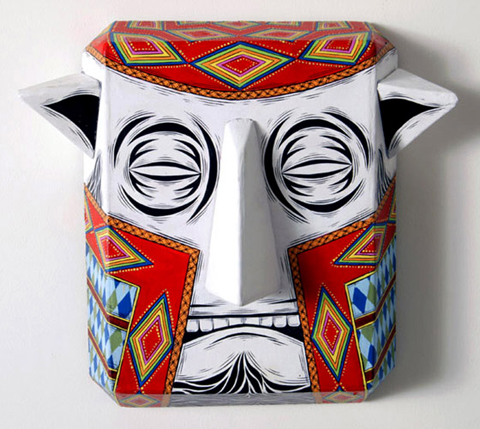 Untitled - Acrylic and ink on wood sculptured mask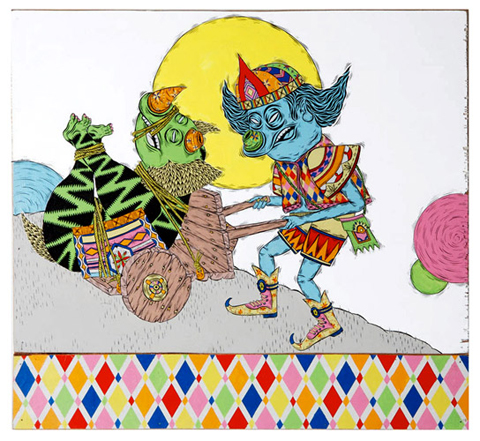 Meals on wheels - Acrylic and ink on wood panel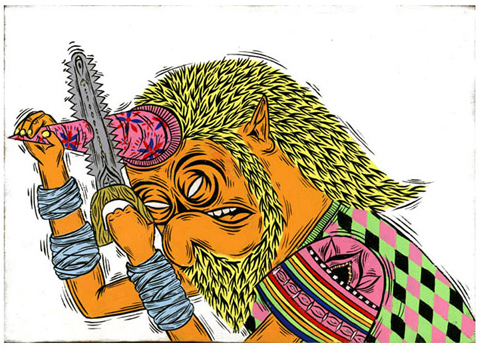 Saw 1 - Acrylic and ink on wood panel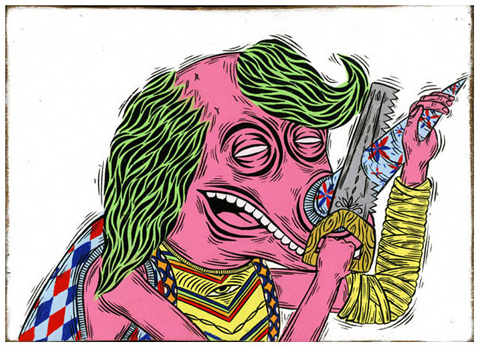 Saw 2 - Acrylic and ink on wood panel
More on Trent Whitehead at www.trentwhitehead.com