Todd Schorr: Designed for Extinction at Otis
Juxtapoz // Saturday, 19 Jun 2010
1
A public opening reception takes place Saturday June 26, 4-7pm featuring music by GLUE ONE. A limited edition Hurley t-shirt designed by Schorr will be available for purchase that one night only, and Schorr will conduct a book signing of his recent monograph American Surreal published and presented by Last Gasp Books during the reception.
Todd Schorr: Designed for Extinction is a solo exhibition featuring 50+ paintings and preliminary drawings from the last ten years by Los Angeles-based artist Todd Schorr, a leading figure in the Pop Surrealism and Lowbrow art movements. Schorr is undeniably inspired by Renaissance masters such as Hieronymus Bosch, Pieter Bruegel, and Salvador Dali, as well as the early animated cartoons of Walt Disney and Max Fleischer, underground comics best exemplified by Zap, and classic films from the 1930s such as King Kong and Frankenstein. Using the exacting techniques of the old masters, his highly polished, fantastic paintings are intricate narratives about evolution and the plight of man.
Schorr says: "Like any artist of worth, it took many long years of struggle and investigative thought along with trial and error as well as constant honing of technique to reach the point where I felt I had created a language which, when spoken well, would command some semblance of purpose. I work in what is best described as a surreal style but filtered through the mind and eyes of what is, for better or worse, uniquely American."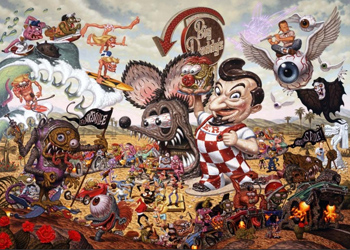 Todd Schorr was born 1954 in New York City and grew up in Oakland, New Jersey. Playing in bands in the late 1960s and early 1970s, Todd fell under the spell of the psychedelic concert posters coming out of San Francisco and underground comics. While visiting the Uffizi gallery in Italy on a trip to Europe in the summer of 1970, Schorr began to formulate his idea of combining his love of cartoons with the painting techniques of the old masters. In 1972 he entered the Philadelphia College of Art (now the University of The Arts) wanting to be a painter but advised to pursue illustration.
Schorr began getting professional illustration work while still in college, and soon after graduating in 1976, he moved to New York City where he provided work for projects including album covers for AC/DC, movie posters for George Lucas and Francis Ford Coppola, and covers for Time magazine that now reside in the permanent collection of the Smithsonian National Portrait Gallery in Washington, DC.
By 1985 Schorr began making a concentrated effort to break away from illustration and into fine art. He was invited to show work in the 1986 landmark exhibition American Pop Culture Images Today at the Laforet Museum in Tokyo, Japan, along with notable artists Robert Williams, Suzanne Williams, Neon Park, Bob Zoell, Georganne Deen, Mark Mothersbaugh, and Gary Panter, and his wife Kathy Staico-Schorr, which in large part galvanized the "Lowbrow" and Pop Surrealism movements. In 1992 Schorr had his first solo exhibition at the Tamara Bane gallery in New York.
Schorr and his wife relocated to Los Angeles in 1998. The so-called "Lowbrow" art movement that he and his contemporaries helped form almost 25 years ago is now a global phenomenon. In 2008 Schorr's work was shown at the Laguna Art Museum as part of In the Land of Retinal Delights: The Juxtapoz School, and in a solo exhibition at the San Jose Museum of Art in 2009. Schorr's work has been featured in Juxtapoz, Dangerous Ink, and in the documentary film, The Treasures of Long Gone John. Schorr's most recent monographs are Dreamland, 2004, and American Surreal, 2009, published by Last Gasp Press. Schorr currently lives and works in Los Angeles with his wife, artist Kathy Staico-Schorr.
Artist's website www.toddschorr.com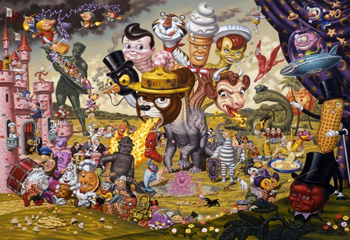 Additional information on Todd Schorr: Designed for Extinction is available online at www.otis.edu/benmaltzgallery
Otis Continuing Education is offering exhibition-related, art-making workshops for kids and families during the exhibition July 10, 31, and August 21, 10am-12pm. The gallery hosts a conversation with Schorr and Curator Meg Linton on Saturday, September 11 at 3pm.
Otis College of Art and Design
9045 Lincoln Blvd, Los Angeles, CA 90045
Parking & Admission: Free.Visitor parking in structure on La Tijera.
Hours: Tue-Sat 10am-5pm / Thu 10am-7pm. Closed Sunday, Monday and Feb 13.