Today's Juxtapozition - PSU Riots vs Occupy Cal Part 1: Nittany Lyin
Juxtapoz // Thursday, 10 Nov 2011
1
Two public university campuses erupted in violence last night on opposite sides of the country. On one side of the country, students flipped news vans, smashed windows, and ran riot. On the other side, students gathered peacefully, began to erect tents and fill their main plaza with bodies against university orders to disperse. One protest catalyzed violence, a spontaneous response of outrage in the face of damning allegations. The other protest elicited violence, a spontaneous yet peaceable expression of outrage in the face of mammoth fee hikes. First let us examine the PSU riots: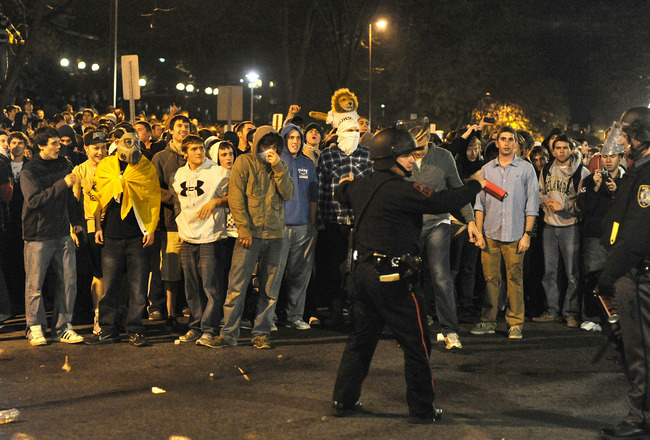 Joe Paterno, the longest-serving, winningest football coach in NCAA history, stood silent for the last ten years in the face of a scandal which threatened to– and ultimately did– ruin the powerhouse college football program he built over the last half-century. The second most profitable program in the country, central Pennsylvania's economic bright spot, snuffed out: this is presumably what JoePa feared, why he stayed silent, why he let hundreds of youngsters continue to participate in Jerry Sandusky's Second Mile program– of which JoePa was listed as an honorary member up until very recently– even after he heard McQueary's report of Sandusky raping a 10-year-old boy in the shower in 2002.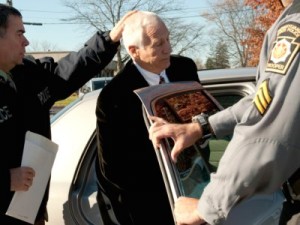 Everyone involved, from Paterno to Tim Curley to Graham Spanier and beyond, chose to circle the wagons lest any hint of the abuse leak out and tarnish their precious program. Meanwhile, Sandusky continued to parade around PSU facilities until 2010, when he abruptly retired and was scrubbed from the Second Mile website. He was not banned from the PSU campus, however, until November 6th of this year.
In the face of all this mounting evidence, large numbers of PSU students and fans took to the streets of University Park and threw themselves a riot, overturning news trucks, throwing bottles, destroying property, and provoking police officers into using the dreaded "pepper spray" (Guess there was no tear gas on hand as favored by truly repressive forces like the OPD and IDF). This anger, presumably arising from the sudden loss of football prestige, economic power, and moral highground Penn State enjoyed until recently, was certainly exacerbated by the knowledge that the community moral center, the great Paterno, turned out to be a fraud after all. When a community builds itself around the Nittany Lionization of one man and he fails them, where is morality? Where is virtue? How can you keep the traumatized victims in your hearts when you are reduced to a traumatized child yourself? I have to believe this great existential crisis occurred because otherwise, it means the lion's share of PSU fans are just a bunch of atrocious assholes.