"Tiny Trifecta" at Tara McPherson's Cotton Candy Machine
Juxtapoz // Tuesday, 05 Apr 2011
1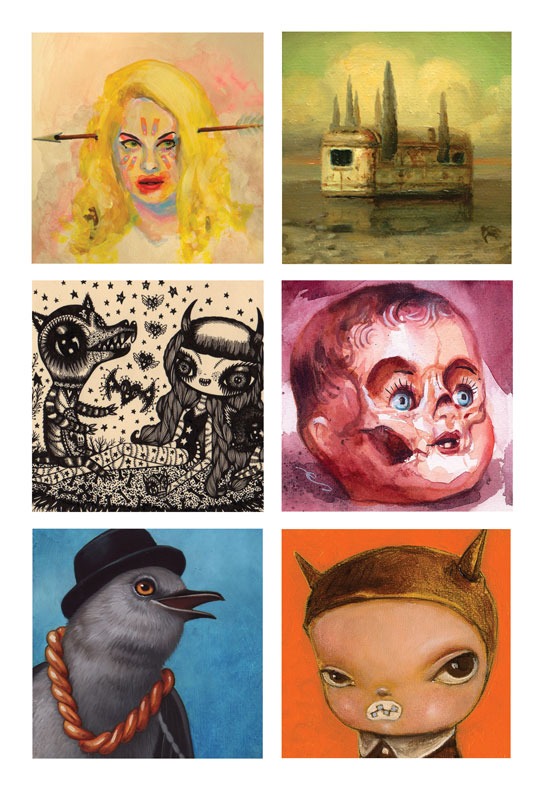 Tara McPherson is set to open her new store and gallery,
Cotton Candy Machine,
in Brooklyn, and the grand opening event will be an exhibition called Tiny Trifecta. McPherson is gathering 100 of her favorite aritsts to help her ring in the new shop, meaning 100 pieces of tiny art all priced at $100.
Featuring the art of Jessicka Addams, Esao Andrews, Jim Avignon, John Baizley, Shawn Barber, Gary Baseman, Andrew Bell, Leia Bell, Bongoût, Robert Bowen, Beast Brothers, Mike Budai, Casey Burns, Scott C, Joe Capobianco, Marcos Chin, Colin Christian, Sas Christian, Ciou, Becky Cloonan, David Cook, Dave Cooper, Jessi Cornett, Dave Correia, Molly Crabapple, Lana Crooks, Steven Daily, Daniel Danger, Camilla d'Errico, Stephan Doitschinoff, Huck Gee, Dana Glover, Dan Grzeca, Brian Ewing, Natalia Fabia, PJay Fidler, Justin Hampton, Kevin Hayes, Mark Heggie, Hero, Boris Hoppek, Jim Houser, Seldon Hunt, Jordin Isip, Jeremyville, Aya Kakeda, Audrey Kawasaki, Lindsey Kuhn, Henry Lewis, Travis Louie, Lola, David Mack, Jim Mahfood, Steven Manale, Sara Antoinette Martin, Angie Mason, Dan May, Tara McPherson, Mike Mignola, Brandi Milne, Junko Mizuno, Buff Monster, Tomi Monstre, Michael Motorcycle, Kathie Olivas, Alex Pardee, Brandt Peters, Joshua Petker, Nathan Pickett, Anthony Pontius, Little Friends Of Printmaking, Arabella Proffer, Noah Rice, Nathan Rice, Martha Rich, Jermaine Rogers, Paul Romano, Arik Roper, Martina Secondo Russo, Frank Russo, Jay Ryan, Mark Ryden, Isabel Samaras, Jon Schnepp, Mike Shinoda, Rafael Silveira, Greg Simkins, Skinner, Morgan Slade, Timba Smits, Shawn Smith, Jeff Soto, Nathan Spoor, Tofu Squirrel, Diana Sudyka, Fefe Talavera, Jill Thompson, Adam Wallacavage, Jonathan Wayshack, Eric White, Elizabeth Winnel, Martin Wittfooth, and Chet Zar.
That is a lot of artists. Tiny Trifecta opens this Saturday, April 9, 2011, and will be open until May 1, 2011.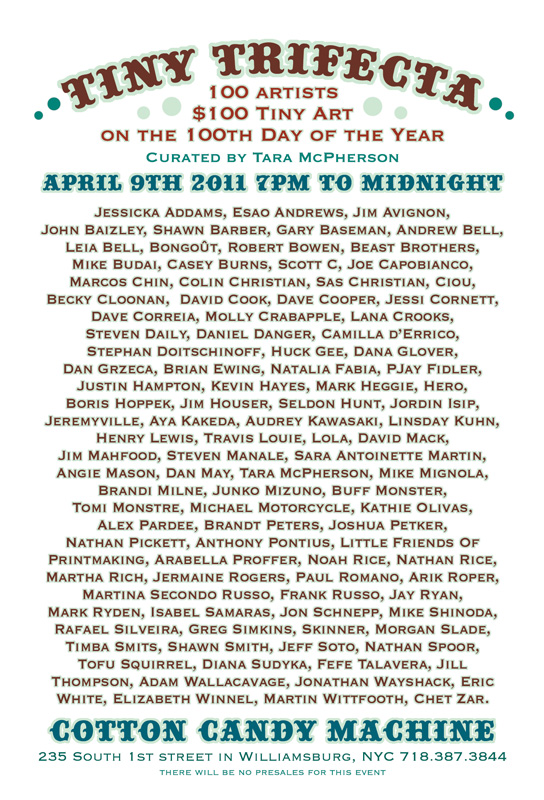 Tiny Trifecta
April 9—May 1, 2011
Cotton Candy Machine
Brooklyn, New York