Image Gallery
"Timeline" Group Show @ Underdogs, Lisbon
Juxtapoz // Friday, 29 Nov 2013
1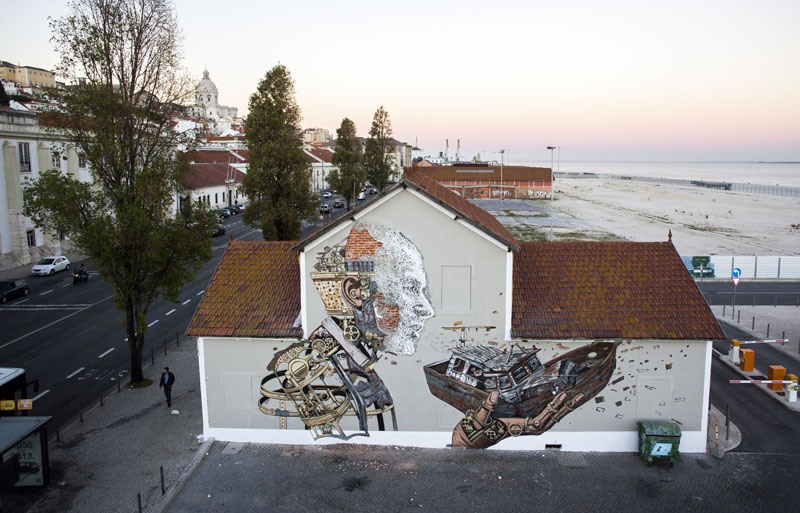 The Underdogs platform has the pleasure of announcing its year-end group show that will take place both at the Underdogs Gallery and the city of Lisbon itself, featuring exclusive and original work by some of the world's leading contemporary urban artists who worked with the platform during 2013: Interesni Kazki (Ukraine), Cyrcle (USA), ±MAISMENOS± (Portugal), Pixelpancho (Italy), and How and Nosm (USA).
"Timeline" takes stock of the work created by the artists and collectives invited to Lisbon, Portugal for the Underdogs 2013 Exhibitions and Public Art Programme, with the gallery space featuring a selection of original artwork and prints produced following their short artist residency in the city, while also establishing an articulation with the productions they created in the streets of Lisbon and which have permanently changed the city's visual landscape. The objective: to erase the boundaries between indoor art and outdoor art and contribute towards bringing to Lisbon's inhabitants a new way of enjoying the city's visual landscape and public space.
The articulation between city (public art), gallery (exhibition) and virtual space (website) is established through a set of labels placed next to each of the 9 locations where these artists intervened in Lisbon featuring QR codes that redirect viewers to www.under-dogs.net where they can access a map, along with detailed information on the pieces, the artists and the Underdogs Public Art Programme.
Original, limited-edition screen prints by Pixelpancho, Vhils and Interesni Kazki will be launched during the show. Screen prints by these and the other artists will also be available for purchase both at the gallery and through the website www.under-dogs.net.