Three-Woman Show with Korin Faught, Krista Huot and Mia
Juxtapoz // Tuesday, 14 Sep 2010
1
As summer transitions into fall, Korin Faught's elegantly moody beach series presents the ideal escape for her signature style of double visions. Known for her precise attention to styling and fabrics, the Los Angeles artist unveils a new collection of relaxed glamour for this significant new exhibition at Corey Helford Gallery. Her capricious muses enjoy the sun and sand, yet danger looms ahead. Faught notes, "Unease surrounds the brightly colored, bird-like women. They are innocent and unwitting victims who perch on the edge of peril, easily consumed by looming night."
Montreal artist Krista Huot (work directly below) creates whimsical narratives where sparkling nymphs command center stage against an enchanting backdrop of dark shadows. Taking inspiration from the environment, Huot's new series of works is populated with fairies and mystical creatures, representing humanity's connection with nature. And for her second exhibition with Corey Helford Gallery, Huot extends her environmental focus to her materials, employing a unique collection of eco-friendly walnut oils to bring her fairytales to life.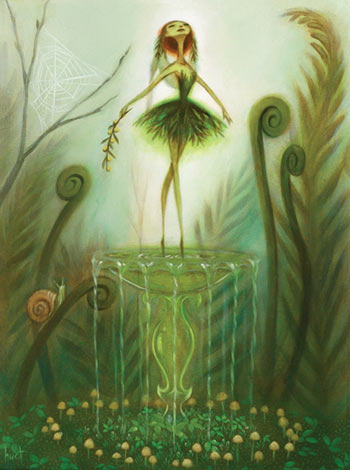 Returning to Corey Helford for her third major exhibition at the gallery, Los Angeles artist Mia explores visibility and invisibility, darkness and light and what it means to truly see. Mia notes "all individuals contain an entire universe within them, which is invisible to the naked eye," and her new collection of visionary acrylic paintings concentrates on giving shape to the unseen forces within her subjects. Mia's works are populated with graceful mystery, powerful symbolism, and dreamy narratives creating a rich inner-landscape of identity and mythology for her characters that reaches far beyond what the human eye can see.
Open to the public, the reception will take place on Saturday, September 25 from 7 to 10pm, and the show will be on view until October 16, 2010.
Korin Faught
Korin Faught (work shown very first in this post) was raised in Colorado, and she received her B.F.A. from Art Center College of Design in 2004. Faught finds inspiration in mid-century modern design, fashion, and white on white. Faught's work has been exhibited at galleries in Los Angeles, New York, Toronto, San Francisco and Seattle as well as published in ArtNews, Abitare, and American Art Collector magazine. She has also been a featured artist on Style.com, Artist A Day and Juxtapoz. For more information about Korin Faught, please visit www.korinfaught.com.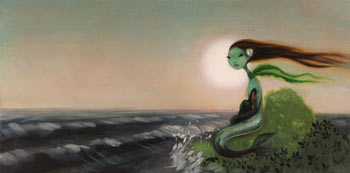 Krista Huot
Krista Huot (work directly above) spent her formative years in the forests of British Columbia, where she was formally trained in fine arts and classical animation. Her paintings explore the ongoing emotional relevance of archetypes in folklore, using inspiration from vintage storybook illustration, folk art, animation and kitsch. Huot's work has been shown at galleries throughout North America, including Los Angeles, Portland and New York. She currently resides in Montreal, Quebec. For more information about the artist, please visit www.kristahuot.com.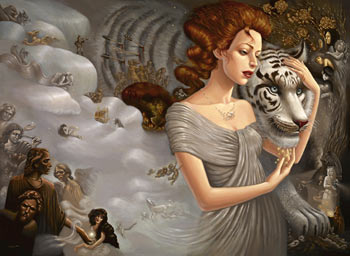 Mia
Born and raised in Los Angeles, California, Mia (work shown directly above) graduated as valedictorian from Otis College of Art and Design with a BFA in Illustration and a minor in Creative Writing. Fascinated by story and character, Mia's paintings are "personality portraits" that illustrate the spirits, inner demons, conflicting emotions and imagination of her subjects. Mia currently shows her work in prominent galleries across the U.S., and her work has been published in ImagineFX, Spectrum, the Society of Illustrators of Los Angeles, and the Creative Quarterly. For more information about Mia, please visit art-by-mia.com.
Korin Faught, Krista Huot and Mia
Opening Reception Saturday, September 25, 2010 from 7?10pm
On View September 25 – October 16, 2010
Corey Helford Gallery
8522 Washington Boulevard
Culver City, CA 90232
T: 310-287-2340