Three-Handed with Eric White, Nicola Verlato, Fulvio Di Piazza
Juxtapoz // Friday, 02 Apr 2010
1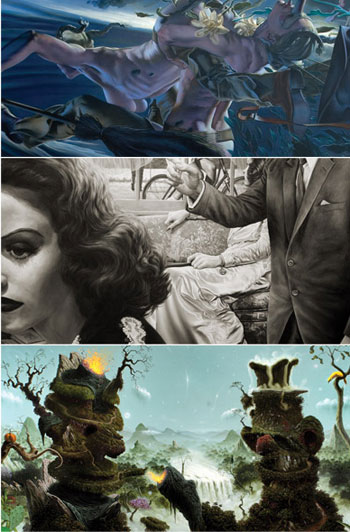 Three-Handed, a three-person exhibition of new large-scale paintings by New York based artists Eric White and Nicola Verlato, along with Palermo-based artist Fulvio Di Piazza comes to Jonathan LeVine Gallery April 10th. Showing together for the first time at the gallery, these three skilled painters take a realist approach towards fantasy subject matter.
For his largest work to date, Eric White takes inspiration from Bruegel's Massacre of the Innocents—which documents Spanish infanticide in 16th century Flanders, and stands as a condemnation of war and it's resulting atrocities. White's version translates these ideas into contemporary terms, as American involvement in war has become so established and enduring that it ceases to be shocking. In the painting, idealized monochromatic female figures referencing 40s-era Hollywood starlets wander nonchalantly across a war-torn cinematic landscape. The war motif is paralleled by themes familiar to the artist's work, including psychological dysfunction, nostalgia, the dream state, and the limits of perception.
Nicola Verlato's highly dramatic allegorical compositions are each rendered with remarkable use of perspective, reminiscent of the Renaissance-era yet also influenced by video game technology. One painting portrays a group of heavily armed male and female terrorists invading an art fair, fully nude, wearing only athletic footwear and animal masks. Another piece depicts an apocalyptic vision as seen through the window of an airplane. Finally, on a large linen canvas, a figure representing legendary blues guitarist Robert Johnson sells his soul to the devil, while a vision appears to him of Jimi Hendrix's guitar being played by demons in the sky—as a premonition of the birth of Rock & Roll.
Fulvio Di Piazza's whimsical paintings depict rivers running through sunny nature-scapes, forests populated with wildlife and lush green woods that stretch far beyond the horizon. With extraordinary detail and depth, the fantasy realm of the artist's saturated woodland scenes are revealed through his imaginative anthropomorphized plant life as distinct faces emerge from unsuspected hills, rocks and tree trunks, sprouting limbs rather than branches.
ABOUT THE ARTISTS
Eric White was born in 1968 in Ann Arbor, Michigan. He received a BFA from Rhode Island School of Design in 1990. He currently lives and works in Brooklyn, New York. His work has been exhibited at MACRO Museum in Rome and American Visionary Museum in Baltimore. He has participated in charitable group exhibitions such as STAGES (which traveled to Paris and New York) and benefits the LIVESTRONG Foundation, as well as consecutive years in the annual Re*Generation auction, benefitting homeless youth.
Nicola Verlato was born in 1965 in Verona, Italy. He currently lives and works in Brooklyn, New York. Verlato began painting at a very early age. Trained in Classical music, and with an interest in Rock, Verlato has also composed music for documentary films. He studied architecture at the University of Venice, and moved to New York in 2004. An installation of Verlato's paintings and sculptures were exhibited at the 2009 Venice Biennale in the Italian Pavilion.
Fulvio Di Piazza was born in 1969 in Siracusa, Italy. He studied at Urbino Art Academy and participated in the Quadriennale exhibition in Rome in 2008. He currently lives and works in Palermo, Italy.