Thinkspace News: New Space x Three New Shows
Juxtapoz // Monday, 29 Mar 2010
1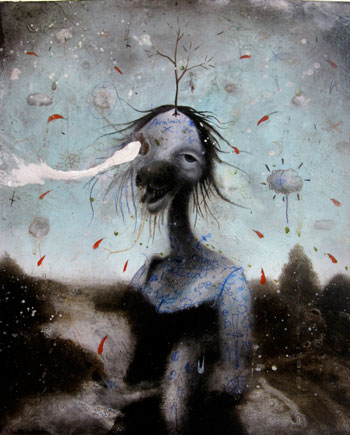 Thinkspace gallery has a lot going on--okay, make that a ton going on--so we suggest you sit up and take note. Their upcoming show is in a brand new location and features essentially three shows. Woah.
So there's a lot of info here: basically you need to know that (1) their gallery has moved to a new spot in Culver City, LA (2) that the main solo show features works by Anthony Pontius (3) a Hunt & Gather group show will take place in their Project Room (learn about this great new book from us here) with a signing by author Tina Ziegler the next day and (4) on view in their office is a Vision group show.
It all kicks off this Friday, April 9th 7-10PM with several of the artists in attendance.
Full details follow now...
Thinkspace presents:
Main Gallery:
Anthony Pontius
'the caped cobra and his merry band of riders'
Project Room:
'Hunt & Gather' – group show and book release featuring 12x12" works from Featuring 12x12" works from: Aaron Kraten, Andy Council, Deseo One, Carrie Ann Baade, Charles Wish, Chelsea Lewyta, Dave Pressler, Diva, Elizabeth Mcgrath, El Gato Chimney, Emilio Subira, Jshea9, Plastic God, Scott Belcastro, Scott Campbell, Scott Radke, Tanner Goldbeck, Tessar Lo, Tiffany Liu, Timothy Lee, and Victor Castillo - curated by Tina Ziegler / www.Huntandgatherart.com
On view in our office:
'Vision' - group show featuring new works from Adam Caldwell, Craig 'Skibs' Barker, David MacDowell, Derek Gores, Jacub Gagnon, Jennifer Nehrbass, Jeff Ramirez, Josie Morway, Linnea Strid, Liz Brizzi, Pakayla Rae Biehn, and Stella Im Hultberg
Opening Reception:
Fri, April 9th 7-10PM with several of the artists in attendance
Book-signing for 'Hunt & Gather: Discovering New Art':
Sat, April 10th 6-8PM (more details forthcoming)
All exhibitions on view: April 9th – April 30th
On April 1st, 2010 Thinkspace will relocate to an upscale new space (formerly the home of Kinsey DesForges and BLK/MRKT) at 6009 Washington Blvd in the heart of Culver City, one of LA's leading art districts. After four years in Silver Lake, the time has come for the gallery to take things to another level both in terms of presentation and profile. With this move we aim to enhance our ongoing program and provide an ever-growing base to some of the most exciting emerging contemporary artists from around the world.
NEW ADDRESS:
Thinkspace?6009 Washington Blvd
Culver City, CA 90232
Wed-Sat 1-6PM
Inaugural exhibition in our new main gallery space:
Anthony Pontius (Read his recent Back Talk interview with us HERE)
'the caped cobra and his merry band of riders'
Born 1972 Indiana
M.F.A. Painting, University of Kansas 2004
B.F.A. Painting and Printmaking, The Herron School of Art 2000
"Gorgeously apocalyptic and subtly infused with a dark whimsy, Anthony Pontius uses a variety of media (mostly oils and pencil on wood panel) to create his haunted and stark landscapes that have a strange resonance to the unearthly works of Bosch, inhabited by strange creatures and degraded machinery. With narratives looking like the end of a bleak fairy tale that did NOT end happily ever after, the canvas is then splashed with streaks and blotches, and re-worked with pencil creating intricate scarred vignettes of ghostly words and images. Each painting is suffused with a smoggy, smothered glow that creates an evocative and enigmatic aura." (Kirsten Anderson / Roq La Rue Gallery)
The caped cobra and his merry band of riders are a group of humans that evolved during the end of the technological world of old... in order to survive, they must coexist with nature by any means... much like early human nomads, the band traverse the land searching for their long lost connections to the world... as they grow the union establishes a new identity...
Pontius currently lives and works in Brooklyn, New York. He has taught extensively at the Des Moines Art Center, the University of Kansas, the Lawrence Arts Center and the Herron School of Art and Design. His work has been exhibited in many galleries, universities and venues nationally.
Pontius creates via a variety of mediums (mostly oils on wood panel and graphite on paper) to create his beautifully apocalyptic landscapes that bring to mind the unearthly works of the great Hieronymus Bosch. Infused with a dark whimsy all his own, Pontius' narratives bring to mind the dark fairy tales of the Brothers Grimm. His work is infused with a spirit that is hard to pinpoint, a sort of underlying frentic energy created via his intense layering technique. Beneath the smog defused glow lies a ghostly underworld not that far removed from our own, although in Anthony's world, there is no happily ever after.
Artist website: http://anthonypontius.vox.com
Take a 'Sneak Peek' at the works for 'the caped copra and his merry bands of riders' coming together:
http://www.flickr.com/photos/thinkspace/sets/72157623393134393
In our project room:
Hunt & Gather was curated by author and gallery director Tina Ziegler. Dedicated to fostering the relationships between artists and art enthusiasts, Ziegler has selected an array of artists from her recent book to take part in this special exhibition celebrating the release of Hunt & Gather: Discovering New Art. With this exhibition Ziegler has assembled a striking collection of surrealism, pop art, illustration, collage, graphic design and mixed media representing some of today's most boundary-pushing artists.
There will also be a special book-signing event featuring several of the artists featured in Hunt & Gather: Discovering New Art on the evening of Sat, April 10th. Additional details and a full lineup of participating artists at the signing will be announced closer to the signing event.
This special exhibition will feature 12x12" works from the participating artists.
Website: www.huntandgatherart.com
On view in our office:
'Vision'
Special group show featuring new works from a nice cross section of our roster including Adam Caldwell, Craig 'Skibs' Barker, David MacDowell, Derek Gores, Jacub Gagnon, Jennifer Nehrbass, Jeff Ramirez, Josie Morway, Linnea Strid, Liz Brizzi, Pakayla Rae Biehn, and Stella Im Hultberg
Read more about each artist here: http://www.thinkspacegallery.com/artists.php
About Thinkspace Gallery:
Established in November of 2005, Thinkspace exists as a catalyst for the ever expanding new contemporary art movement that is exploding forth from the streets and art schools the world over. We are here to help represent this new generation of artists, to provide them that home base and to aid them in building the right awareness and collector base necessary for long-term growth.
Our aim is to help these new talents shine and to provide them a gallery setting in which to prove themselves. It is our hope and dream that through these opportunities these individuals will prosper and continue to grow to amaze us all for years to come. With the love of and for our community, and with the talents of so many incredible artists involved, we believe that this movement will provide the necessary proving ground for the ideas and dreams of today to become the foundations of a new tomorrow.