The World of Jenn Porreca
Juxtapoz // Friday, 17 Oct 2008
1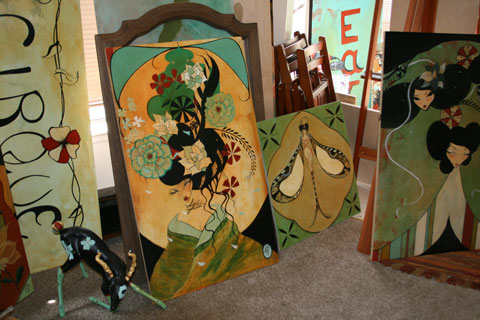 We recently met up with artist Jenn Porreca at her San Francisco home studio for a peek at her newest paintings. What started as a quick, voyeuristic look at her workspace turned into an afternoon of chatting and debating the world of contemporary art. Needless to say, this talented lady knows her stuff.

Not only is Jenn's work being featured in the San Francisco Examiner this week, but she will be showcasing her studio as part of SF's amazing Open Studios, and her newest paintings will grace the walls of Manhattan's Opera Gallery in the Young Blood exhibit which opens tonight, October 17, 2008. Woah, got all that?

All her success has been hard fought, yet relatively recently earned, as she only got back into pursuing art on a full-time basis approximately four years ago. Born in 1977 in England to a mother that held the unique occupation of gravestone carver, art and creative energy has long been a part of Jenn's world. However creative her mother's livelihood was, she often warned of the hardships an artist's life could entail. "My mom told me to get a degree in marketing," Jenn jokes, as we sit at her comfortable kitchen table.

Jenn obviously took some of her mother's advice to heart, as she worked in the non-profit sector for years, and still continues to work part time for a non-profit company in San Francisco. Having never attended formal art school, Jenn's artistic style is unique and she continues to experiment with new mediums on a regular basis. "Sometimes I think if I had gone to art school I would have learned all those helpful tricks and would have progressed faster, but it's led to an organic feel in my work that I love."

Looking at her newest paintings lined up across her studio wall, it's easy to see she's made the most of a growing creative drive she says she's developed and been able to hone in, particularly in the past few years. Perhaps the excitement surrounding the massive wedding that she and her fiancé just announced and are planning for next year has helped her with the creative power coursing through her newest paintings.

In talking about her latest work, it's glaringly apparent that Jenn isn't in this for approval; she does it because she has something she innately needs to express. Refreshingly intelligent and contemplative about herself, society, the rest of the globe (yes, she's traveled and lived all over the place) and how visual art ties in to all of the above, Jenn brings an intellectualism to her work that is thus reflected in the depth of her aesthetic.

If there's one word to describe Jenn's work, brave comes to mind. Never afraid of ruining a piece or to take unusual risks in her painting, Jenn employs a diverse array of techniques to create the deep and weathered look of her work. "I love layers," she says. "I will take a sander to my work and then layer on more coats of paint." The effect is palpably unique, and she often encourages viewers to touch her work to feel its texture.

Jenn's willingness to experiment has paid off considerably. Art historian Sandrine Cornault recently stated that Porreca's works "call to the fleeting notion that we each witness in our lives." Jenn is simultaneously awed by her own success. "I'm living a reality right now that I didn't think I'd have until my next life," she muses.

Whatever her work does for you, one thing is for sure: you'll be seeing more of Jenn around as she has a new show coming up this December, Infinity Squared, at Southern California's Distinction Gallery. If you can't wait until then, you're in luck because her studio will be open or public viewing this weekend in San Francisco. Her latest collection of paintings will also be part of Opera Gallery's Young Blood exhibit, October 17 – November 10, 2008 in New York City.

See what we mean? Jenn knows what she wants and will continue to create and evolve to her heart's content.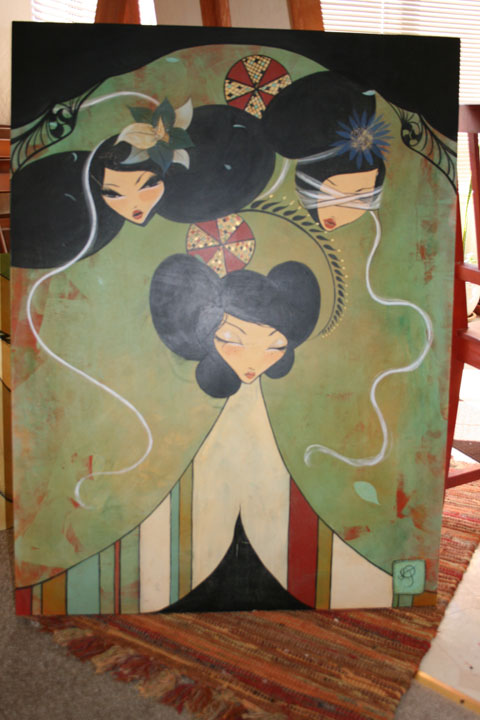 Cirque - acrylic on maple wood, 30" x 40"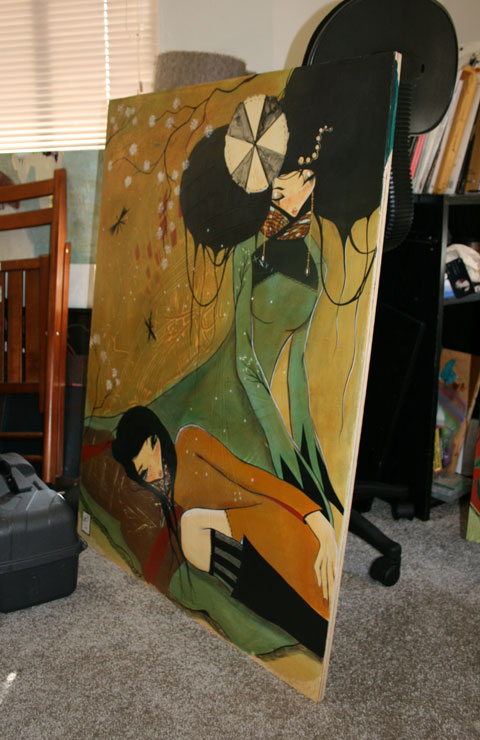 Indefinite Questions - acrylic on maple wood, 30" x 40"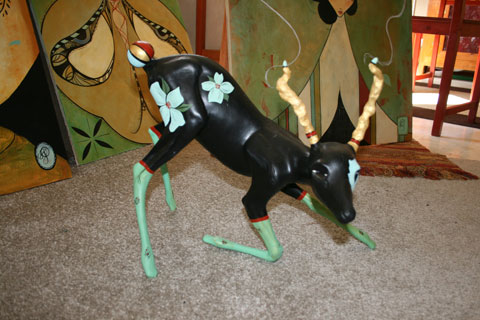 Out of the Ashes - sculpture, 2006 - 2008 (yep, it took two years to finish!)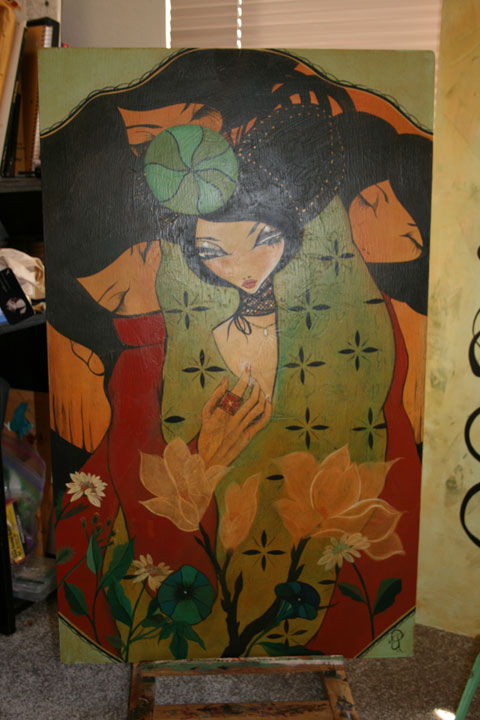 The Captor - acrylic on maple wood, 21" x 35"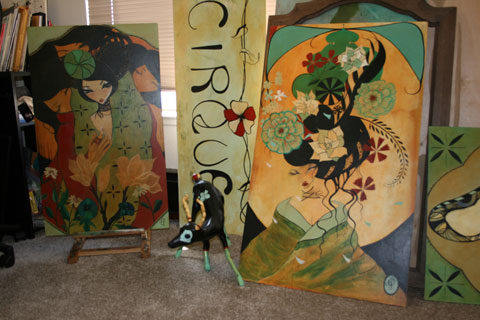 Left: The Captor - acrylic on maple wood, 21" x 35"
Right: Fleur - acrylic on maple wood, 24" x 36"
More on Jenn Porreca and all her upcoming shows at www.jennporreca.com