Image Gallery
The Work of Stephanie Inagaki
Juxtapoz // Friday, 02 May 2014
1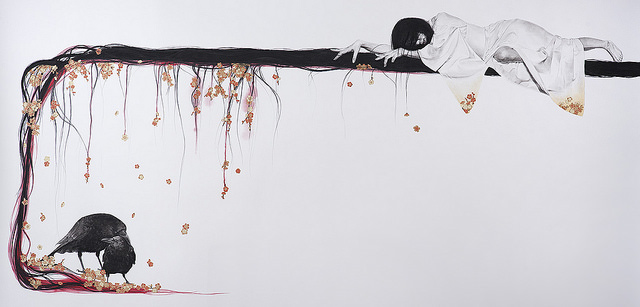 "Weaving elements of masterful line work and a strong sense of heritage, the work of Stephanie Inagaki uses Japanese mythology and folk tales as the source for her intimate presentations of the manners in which we relate to the ones we love, the often painful lessons learned in the experience, and ultimately the blossoming discovery of self.
The artist states "It is human nature to place certain meanings to objects, ideas, and moments in our lives in order to compartmentalize our histories and stories so that we continue living and moving forward. By contextualizing the female body, hair, feathers, and crows into surrealistic compositions, I am creating my own mythology through these corporeal re-imaginings. My body is the landscape where double self examinations occur through portraiture and self ruminations of the negative and positive aspects of hair and crows. "Referencing traditional Japanese culture and mythology allows me to synthesize transformative moments into visual vignettes of change, growth, empowerment, and the cyclical nature of living as a human being.
Stephanie Inagaki is a graduate of the San Francisco Art Institute and has exhibited in group shows at galleries including La Luz de Jesus (Los Angeles) and ArtNowNYC (New York) and was featured in the Century Guild booth at LA Art in January. "Metamorphosis" is her first solo exhibition."
Stephanie opened her debut solo exhibition, Metamorphosis, at Century Guild on April 26, 2014. The exhibition will continue May 2-4th.
6150 Washington Blvd. (corner of Washington and McManus)
Culver City, CA