The Untapped Genius of Lauro Roberto
Juxtapoz // Thursday, 29 Jul 2010
1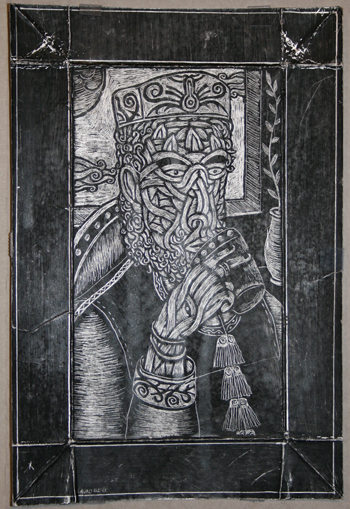 Lauro Roberto is a virtually unknown artist from Brazil, one of the many creatives showcased in Transfer now on exhibit in Sao Paulo. After viewers heard his story, he was also one of the most talked about artists at the show.
Roberto was difficult to track down. He doesn't have a computer or a phone, nor electricity or running water. In fact, he doesn't even have a bed. Living in sub-par conditions, Roberto methodically fashions his artwork from milk boxes.
Milk boxes in Brazil are lined with a metallic silver inside, making for a cheap and shiny surface on which the artist scratches portraits both refined and abstract. The black acrylic on Tetra Pack pieces have been his medium of choice for the past few years.
With 40 of these flattened embellished milk boxes on display, the effect is more than beautiful. After being told of the artist's back story by curators (Roberto was not able to attend the exhibit opening himself), the entire display takes on new meaning.
Viewing the handiwork of an artist so clearly struggling is humbling and inevitably thought provoking. Perhaps battling after-effects of past drug abuse or a sheer loss of willpower due to lack of recognition as an artist, Roberto's story might even go so far as to conjure memories of past genius' such as Van Gogh, notorious for slicing off his own ear. Whatever the reason, Lauro Roberto's works definitely generated a buzz at Transfer's opening and we're still thinking about those milk boxes days after our first introduction.