The Timeless Paper Doll: Group Show Recap
Juxtapoz // Wednesday, 20 Jan 2010
1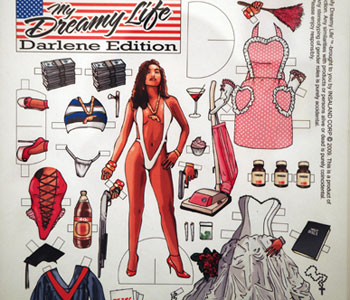 Show Recap: Paper Dolls Group Show by MISS at FIFTY24LA Gallery
Words and photos by Trina Calderon.

The lovely ladies of the M.I.S.S. Crew have assembled a mighty fine line up of contemporary artists for this awesome show.  The group exhibition shows off new works that combine creativity and insight on the 200-year-old toy, the paper doll.  What a fun idea for these artists!  They took the typical 2-dimensional figure that many of us played with as children and put their own spin on it.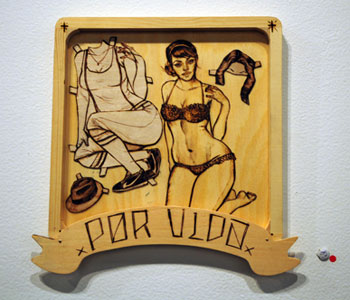 Mitsy Avila Ovalles

Some history…the very first paper doll, "Little Fanny", was produced by S&J Fuller in London and manufactured in 1810.  Fact is, paper dolls are still very fascinating for most historians and fashion buffs because they provide a wide survey of our global culture.  Popular people from politics, film, opera, theater, and royalty have appeared as paper dolls, as well as the common folk – women, men, children, and even animals.  These toys were one of the cheapest ways to keep a child entertained, and one of the symbols in which we as humans have chosen to interact with and idealize our own representation.  I'm sure some psychoanalyst could add that there is an internal relationship with our own self-created image that blossomed from this kind of interaction.  But, let's us instead flash forward from 1810 to 2010 and check out paper dolls that are far more cutting edge than "Little Fanny."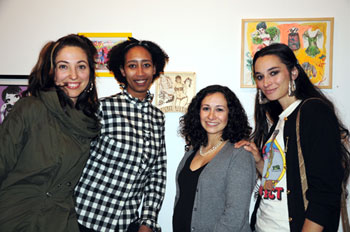 M.I.S.S. Girls

Kimberly Jefferson, Managing Editor of M.I.S.S., shared their vision for the theme.  "We went to thinking, what do we do on the site that we can turn into an art show?  Back then we had column that our contributors did these inspirational outputs for and we called it paper dolls.  That seemed like a natural thing to do, so that was the one."  M.I.S.S. is a women's online lifestyle magazine covering fashion, art, beauty, music and design.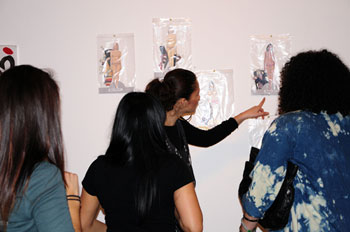 Taking a look at Melly Elliot's work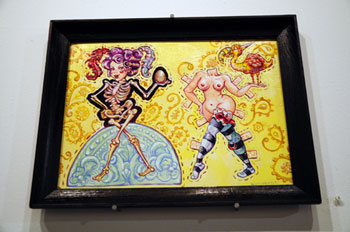 Molly Crabapple


Gabriella Davi-Khorasanee is partly responsible.  She explained, "M.I.S.S. started 3.5 years ago.  I had a clothing line back then called Mama.  At the time, I was going to trade shows and the blogs were just coming up as a big fashion news source.  The kind of clothing I was doing was Street Wear, so it was more of a boys club, and a lot of the online sites featured mostly male product.  Being in the industry, I knew that there were a lot of other women in it, but they were not getting the play or the shine online that the boys were.  So, I was like, what was that all about?  I wanted to start a place where women could put their ideas together and network and support each other, like a power numbers thing and also to break the myth that women can't work together.  That's how I came up with the concept of Mama's International Secret Society, and I started it with Liz Baca."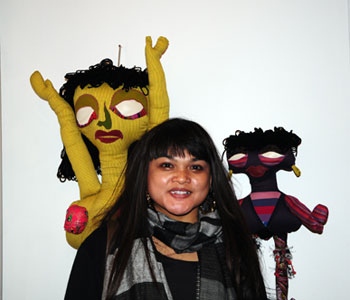 The show is diverse in its representations of the age-old toys.  Farah Siozon (shown above) created several dynamite female fabric dolls she titled "Cult of Personality" using a wide variety of fabrics, colors, and textures – and they are all woman!  "I went through so many different thoughts and materials.  I love to sew, it's kind of like my passion right now, so I interpreted it that way.  I didn't use patterns, instead I would just think about each color, each eyeball, and just put them together that way.  I had to do the vaginas and the boobs, just because.  It's a girl show and I could."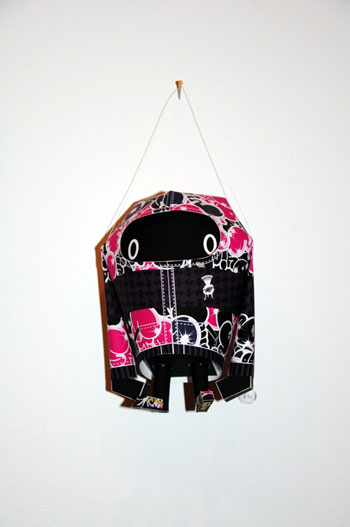 Shin Tanaka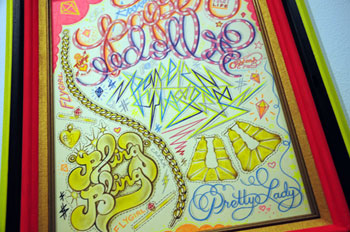 Queen Andrea

Lexx Valdez and Kim Jefferson were all about showcasing different kinds of artists in all kinds of mediums, again to reflect what is on the M.I.S.S. online magazine.  Kim broke it down, "The site features photographers, illustrators, and all kinds of people, and so we really thought about who we could invite into it.  Not only different artists that we haven't worked with on the site yet, but also others who could use some exposure.  Then I, in particular, started researching people who do paper dolls, looking for unconventional paper dolls and also artists that did paper dolls but changed them thematically."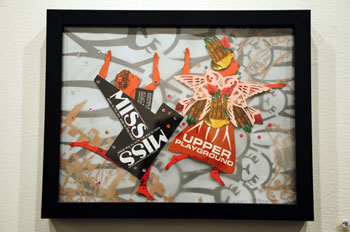 A great example here would be the work Illisha Helfman.  Her collage re-created the paper doll and brought it into a current context by playing with found graphic design work.  This was one of Kim's discoveries.  "I found this blog of hers, and she does this thing every Sunday, where she takes the Sunday New York Times Magazine and using the cover art of the magazine, makes these figures in the background, and depending on the colors and the textures of whatever the photograph or the illustration is, she makes a paper doll of it.  Sometimes they tie back to what the story of the news is actually about. 

When I contacted her and asked her if she'd like to take part, she was like sure, but I work with an inspiration, so if you can provide me with something about your website or about the gallery…We sent her some business cards, stickers, and an Upper Playground catalog and we just saw what she did.  There were some photos of hands and nails and she used that creatively and made a beautiful collage.  Using both our business cards, and the iconography of the Upper Playground brand, things that really speak about this the show and the theme of our website, she really went for it, which was great."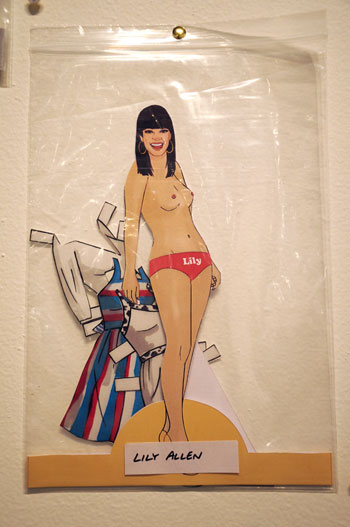 There are real paper dolls in the show too.  Melly Elliot contributed several of her celeb dolls – Lily Allen, Kate Moss, and Cheryl Cole to name a few.  Kerin Rose, the shining designer of the A-Morir line (she designed the amazing Pyramid Stud glasses worn by Rihanna in Jay-Z's "Run This Town" music video) created a stunning mask made of acrylic, plastic, glass and crystal.  "If My Face Burned Off Would You Still Love Me Until I Die?" is a hot, blood-red jeweled mask that you can't miss when you walk into the gallery.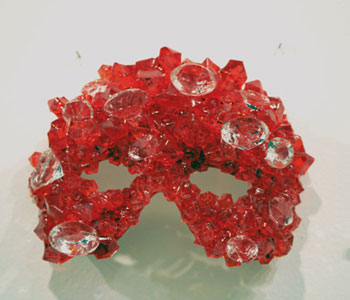 The many mediums in which the ideas of fashion, accessory, and the human form are shown, speak to the ingenuity behind this collection of artwork.  Magda Sayeg added the word toilet to her piece and knitted a toilet paper doll.  And in no way is it as cute as it sounds – it's Freddy Krueger rising out of your worst porcelain bowl nightmare!  It's awesome!  Insa kicked down a fantastic and hilarious digital print of her paper doll vision, "My Dream Life."  It comes complete with ghetto options for the all-legs hot broad, like Prozac, graduation cap and gown, a shotgun, or a vacuum.  Choose your own adventure!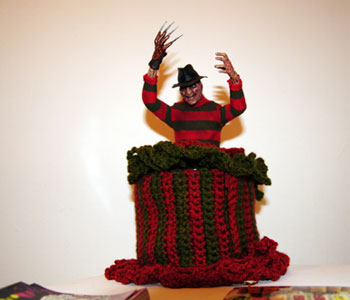 Curated by M.I.S.S. editors Lexx Valdez and Kimberly Jefferson. The show includes artists: Adriana Yugovitch, Alice Mizrachi, Amanda Lopez, Branden Collins, Claw Money, Esther Kim, Farah Siozon, Fawn Gehweiler, Ilisha Helfman, Indie184, Insa, J. David Mckenney, Katie Rodgers, Kelly Tunstall, Kerin.Rose, Kim Moloney, Kime Buzzelli, Lanie Alabanza-Barcena, Leola Bermanzohn, Lisa Perrin, Liz Sullivan, Magda Sayeg (Knitta Please), Martina Fugazzotto, Melly Elliott, Miss Kika, Mitsy Avila Ovalles, Molly Crabapple, Narcissister, Nicole Markoff, Nubby Twiglet, Paulina Quintana, Queen Andrea, Sahara Marina Borja, Shin Tanaka, Sofia Maldonado, Solarspace, Tone Tank, and Toofly.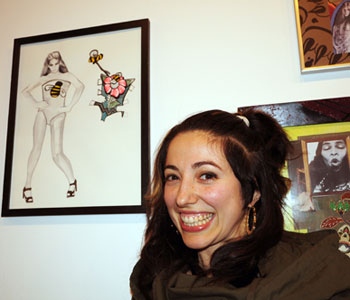 Leola Bermanzohn


Opening/Downtown LA Art Walk: Thursday, January 14, 2010
Second Opening/Downtown LA Art Walk: Thursday, February 11, 2010

FIFTY24LA GALLERY
125 East 6th Street
Los Angeles, CA 90014
213.623.4300
Tuesday – Saturday 12 to 6