The Seconds Pass with Ed Templeton
Juxtapoz // Thursday, 18 Mar 2010
1
"The Seconds Pass, Ed Templeton's melancholic, even troubling photographs at Roberts & Tilton look at a late stage of that transformation, and society seems to teeter at the brink of ruin and collapse," writes Christopher Knight for the LA Times.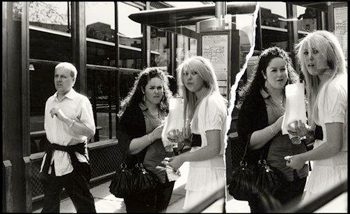 "The pictures, made during the last 15 years in nine different countries but mostly the United States (and especially L.A.), were all shot from a moving car. Lined up around the gallery in 38 sets of framed sequences, each with between three and six individual images joined edge-to-edge, they encourage a visitor to read them from left to right, like a book.
"Jack Kerouac's novel On the Road and Edward Ruscha's artist's books Every Building on the Sunset Strip and Royal Road Test are evoked. So is John Baldessari's work, where mundane, unrelated photographs are juxtaposed to create implied if unsuspecting pictorial narratives."
Read the whole review for the LA Times here and make sure to check out our funny and extensive interview with Ed here and here.
Ed Templeton
The Seconds Pass
February 26 - April 3, 2010
More on Ed at http://www.toymachine.com/