The Pocket-Sized Work of Evah Fan: Our Favorite Interview Quotes
Juxtapoz // Sunday, 10 Oct 2010
1
Evah's miniature paintings and sculptures are challenging and unpredictable. Evah is currently attending graduate school in Sweden and is featured inside this month's issue in an interview with Juxtapoz contributor, Kristin Farr.
Here are some of our favorite quotes from their discussion, but be sure to pick up a copy of the October edition to read the full article.
Kristin Farr: What are some interesting Swedishisms that you've come across?
Evah Fan: They have a lot of funny sounding words. For example, bing-bong translates to ding-dong. That made me laugh. When they greet people they say, "tjena" or "tja!" Or from far away they say, "hej" pronounced like our "hey," and often in doubles.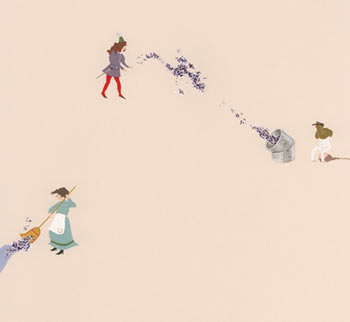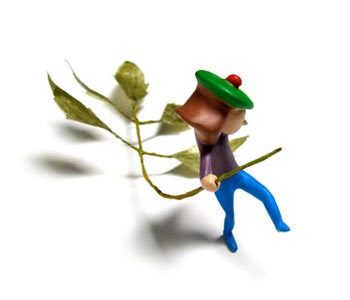 Your art is very detailed and tidy. Are you the same way in other parts of your life?
I do clean a lot, but that's only because sometimes I stress myself out, so cleaning helps release some of that. Working on art makes me feel in control so I can channel my energies there.
Is that why you work so small, to maintain more control?
It didn't used to be so small. Over the years they became smaller, but now I think I should try to do bigger ones, a different motion or movement. Sometimes I feel like, ooh, I got that one little hair! and probably I'm the only who would notice it, but I do get a little satisfaction from that.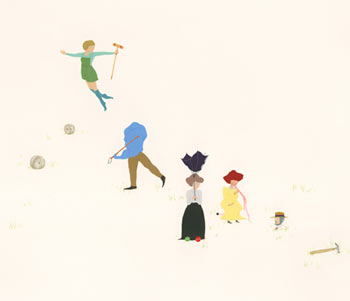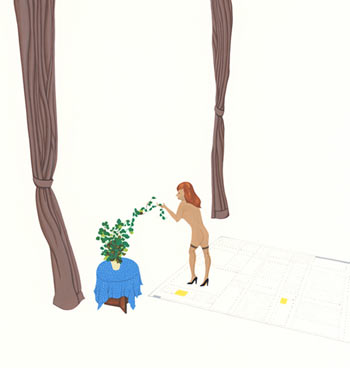 What do you like about socks?
I'm unsure. It's almost like you're wearing shoes, but you aren't. They could even go all the way up to your waist. And they're so comfy. With socks, you don't really get to see them. Only you would know if you're wearing colorful or funny ones; you have shoes and pants covering them. I do have a sock fetish. They're always missing too, so you have to get more socks to replace them. Pippi Longstocking always had two different socks; I thought that was really cool.
Why is your website address PotatoHaveToes.com?
It's kind of embarrassing. When I went to Pratt I ate a lot of fries. I've always been fond of potatoes because of fries. Plus I have bad grammar.
More information about Evah Fan can be found online at… yes, Potatohavetoes.com