The Macy's Murakamis are here
Juxtapoz // Thursday, 25 Nov 2010
1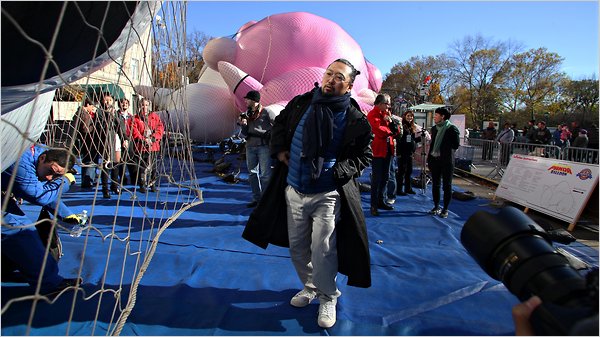 Today, if you are up early enough and like to watch parades, contemporary art's very own Takashi Murakami will have a major role in the annual Macy's Thanksgiving Day Parade in New York City. Macy's themselves have been trying to have Murakami's Kaikai and Kiki characters in the form of inflatable balloons over the streets of Manhattan for years, and we are happy for the determination to get the Japanese artist to commit. And this year, Murakami committed big time.
Murakami's work, and himself dressed in costume, will be in the parade this morning, so check it out on the old television box.
Funny, but the fact that Japanese pop- and sort-of-anime characters (that look like the greatest hits from a psychedelic trip) are now in one of the most American traditions we can think of is pretty damn cool. And Murakami is a great ambassador for the current state of art, so this is deserving.
All pictures courtesy of the NY Times and Takashi Murakami.