The Life and Times of Ron English: Part II
Juxtapoz // Thursday, 04 Mar 2010
1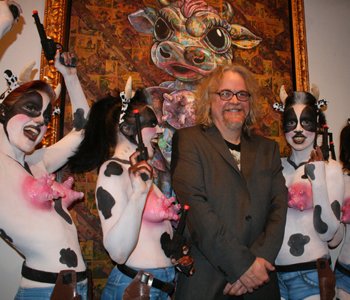 Continuing our in-depth look at the art, development, and life of 'popagandist' Ron English, we now offer Part II of The Life and Times of Ron English [from Part I, here]. Guest contributor Alexandra Iselin Waldhorn took over the English household in Beacon, NY to spend the day figuring out what makes this legendary creator so special.
Ron English: Part 2
by Alexandra Iselin Waldhorn
The town of Beacon, an hour and fifteen minutes from Grand Central Station, looks like a Norman Rockwell town. But with the Dia: Beacon contemporary art museum opening in 2003, artists have flocked to the town. Billboards are scarce and the only chain store is a Subway.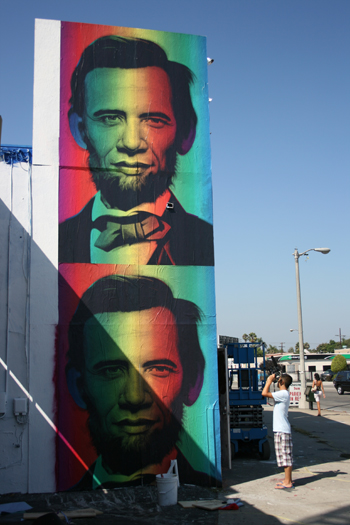 Leading a tour of Main Street, English stops into a toy store. A top shelf displays vinyl busts of his "Rainbow Abraham Obama" and a stack of his obese Ronald McDonald's for sale in little blue boxes. It's the English brand, "Popaganda," that features Ron's invented characters and America's most iconic. The saleswoman asks him to sign an Abraham Obama for a customer, "but conspicuously."
He stops and looks into a glass case with rows of miniature designer toys and figures. English, who travels frequently, brings home similar gizmos for Zephyr and Mars from around the world. "I don't know if they like them," he said, "but they wouldn't tell me if they didn't."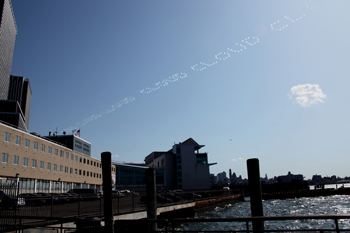 A few doors down there's another toy store and English, wearing a leather jacket on the wintry afternoon, walks straight in. He doesn't really look at anything, aside from the Ugly Dolls. "I've learned a lot from my kids," he said looking down at a row of the alien like dolls with felt fur and cross-stitches for eyes. "Ugly Dolls are cool because they're ironic," he said and added, "and people don't like green and purple."
On the way home in a Honda van, playing his band's CD Electric Illuminati, he points out that one end of Main Street is like SoHo, with high-end galleries, and the other is Brooklynish. "Here in the middle, is the ghetto," he said, "The real estate agent didn't want to show us this part of town." She also didn't want to be in the car with English, even though he was with his wife and kids. "She thought I looked like a biker."
Back at the house, the English family orders take-out Thai food. Yazdani passes around a piece of paper on which everyone can mark the dish he or she wants.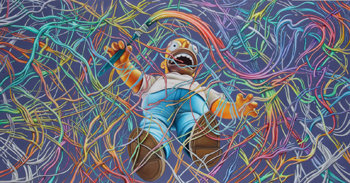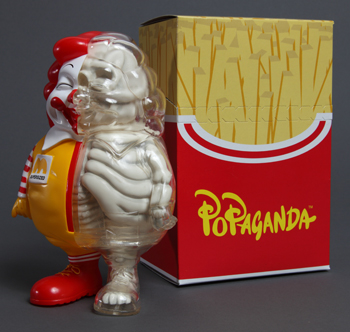 "Would McDonald's say phat?" asked Yazdani sitting at the dining room table, referring to a billboard on which English had painted "phat food" over the Golden Arches. English's latest style is to create something that a company could have possibly made itself.
"If you're criticizing something," said English, "you're being negative." To avoid this, his work has come to include more positive messages that slyly lampoon.
Today, this satire is seeping into his oil paintings that feature rotund toy-like characters or recreate artistic masterpieces of the 18th and 19th Centuries with Americana additions, such as make up similar to the 70s band Kiss. His kids are also his top models, now famous for their series as the "Kiss Kids."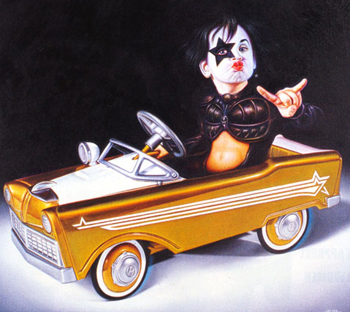 "Do the face," English jokingly asks them. "Do the hands." Zephyr, sitting at the dining room table, thrusts out her tongue and her hands make the rock n' roll hand sign. The kids once saw Kiss, tongues out and hands up, on the television and asked their father, "Why are they doing us?"
After dinner, Yazdani points out an unfired clay model of Picasso's Guernica; English views it as a template for his own creations, allowing him to see the Spanish Civil War from the perspective of the bomber.
Regardless of politics, English is a painter and his aptitude for photography has enabled him to capture realistic shadow and striking color with oils. He frequently makes molds and sets of his subjects and scenes, photographs the result to see how the light falls and how the colors mix, and then transfers that image to the canvas. In the living room, sets like the Guernica, gadgets and figures English uses as models line the wall-wrapping bookshelves.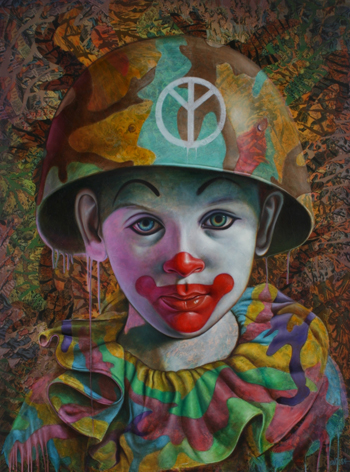 "We go to thrift stores and antique stores and he looks for all kinds of weird stuff," said Yazdani, "For example this fish." She pulls down a scaly rainbow-colored fish. "He'll paint it and it'll be amazing."
Much of English's work resembles an American playground, albeit one turned upside down. His ideas follow a hilarious road trip through pop culture America in a psychedelic land featuring Charlie Brown, Homer, and even, at Zephyr's request, the Power Puff Girls. He's famous for creating his own brand of outlaw art but also for drafting his children in a crusade to alter America's ad-land consciousness while creating a new appreciation for art.

Didn't catch Part I of this feature? It lives online HERE.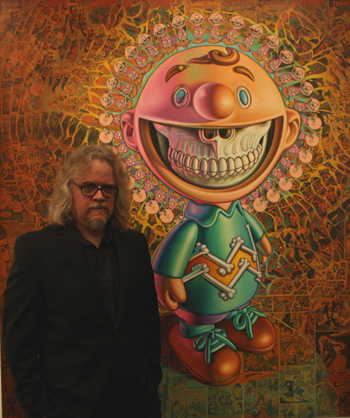 Thanks to Ron English and Tarssa Yazdani for all images.
More on Ron English at www.popaganda.com